Schlumberger Heir Is Selling a Rothko That's So Good It 'Floats'
(Bloomberg) -- Mark Rothko's "Untitled (Rust, Blacks on Plum)" is headed to auction next month and could fetch as much as $45 million.
Architect Francois de Menil, an heir to the Schlumberger oil fortune, and his wife Susan, are the sellers. The painting will be among the stars of Christie's evening sale of postwar and contemporary art on Nov. 15, joining a parade of trophies that include the late "Si" Newhouse's Francis Bacon and Joe Lewis's David Hockney, estimated at $80 million.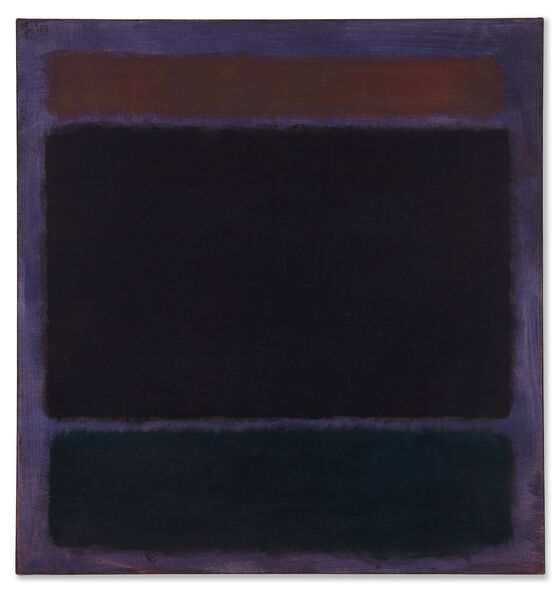 Rothko painted the dark 5-by-5-foot square in 1962, following his Seagram murals and before the Rothko Chapel commission. It depicts two black rectangles and a reddish one on an electric-purple background.
"There are good Rothkos and there are great Rothkos," said Alex Rotter, Christie's chairman of postwar and contemporary art. "This Rothko floats."
Francois de Menil is a grandson of Conrad Schlumberger, one of two brothers who in 1926 founded what's now the world's leading oil services provider. His parents, Dominique and John de Menil, were art patrons who founded the Rothko Chapel and the Menil Collection in Houston. Their holdings were so vast and eclectic that the New York Times described the family as the Medici of Modern Art.
Francois bought the painting in 1979 from the Pace Gallery, a decade after it had caught the eye of his mother.
Dominique had selected it for inclusion in a 1967 exhibition after spotting it in Rothko's studio three years earlier. At that time, she frequently visited the artist to discuss his commission for a non-denominational chapel built specifically for his 14 paintings.
Rothko's paintings have become among the most sought-after by collectors. The artist's auction record is $86.9 million, set in 2012. Still, annual auction sales for the artist dropped 76 percent last year from the peak of $249.2 million in 2014, according to Artprice.com.
The de Menils are also selling four works by Joseph Cornell, including a 1942 shadow box, "Untitled (Medici Slot Machine)," estimated at about $5 million.