Scana Jumps to 4-Month High as Dominion Signals Merger Still On
(Bloomberg) -- Embattled South Carolina utility owner Scana Corp. rallied to the highest level in four months after power giant Dominion Energy Inc. signaled that its $7.9 billion offer to buy the company is still on the table.
Dominion Chief Executive Officer Thomas Farrell told South Carolina Governor Henry McMaster on Friday that he isn't pulling the offer to buy Scana. That's despite the state's legislature passing a bill that will cut the amount of money Scana can recoup from customers for a multibillion-dollar, failed nuclear project, said Brian Symmes, a spokesman for McMaster. Dominion had previously warned that it may walk away from the deal should the state cut Scana's rates.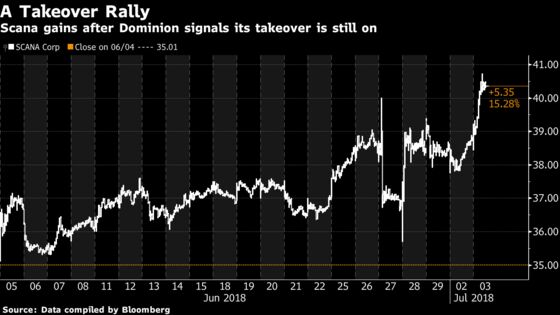 Read More: South Carolina Tosses $8 Billion Merger Back in Dominion's Court
Scana gained as much as 5 percent to $40.74, the highest since March 8. It was up 4.1 percent at 1:40 p.m. in New York, making it the top performer in the S&P 500 Utilities Index. Scana has filed a lawsuit challenging South Carolina's forced rate cut and slashed its quarterly dividend last week to "preserve" its options.
The Post and Courier in Charleston, South Carolina, reported on Dominion's comments to McMaster on Monday.