Scana Drops Most Since 1987 on Concern Over Nuclear Costs
(Bloomberg) -- Scana Corp. plunged the most in more than three decades on concerns it won't be able to recover costs from an abandoned $20 billion nuclear project.
South Carolina Circuit Judge John C. Hayes III is asking lawyers to submit orders regarding the constitutionality of the 2007 Base Load Review Act, which lets the utility charge customers for a pair of unfinished nuclear reactors, Scana said in a statement Monday.
The South Carolina-based Post and Courier newspaper reported Monday that the judge is leaning toward ruling the law is unconstitutional, citing two unidentified people. The decision may threaten Dominion Energy Inc.'s planned $7.9 billion acquisition of the troubled utility.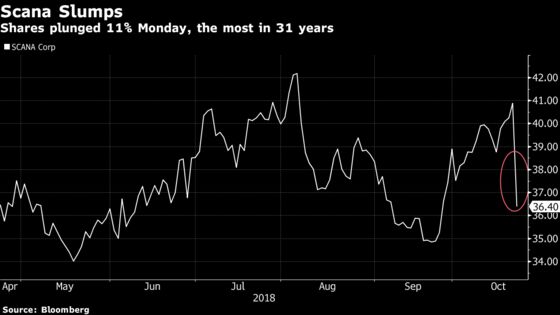 Since shutting down the V.C. Summer project last year, Scana has found itself at the center of a federal investigation, a state probe and hearings on how the plant's budget ballooned to more than $20 billion. The company's chief executive officer retired after lawmakers called for his resignation and consumers are facing a multi-billion-dollar bill for a project that may never deliver any power.
Dominion is "buying the assets of a company and the question is, what are they buying," Paul Patterson, an analyst for Glenrock Associates LLC, said in an interview. "All things being equal, Dominion would like to see as much of this clarified before a deal is completed."
Scana shares sank 11 percent at the close in New York, the most since 1987, to $36.40.
"The judge has indicated to the attorneys for the parties that no final decision has been reached at this time, and the aforementioned issues will remain unresolved until he signs an order in the matter," Scana said in the statement.
Dominion spokesman Ryan Frazier said the company won't "comment on something that's not a final order." The company reserves the right to "walk away from this merger if the commissioners are unable to approve something that preserves our merger plan's economics."
UBS Group analysts said in a research note Monday that "the market would place a higher probability on the scenario of no nuclear recovery" during the appeals process.