Saving This Market May Come Down to These 4 Things: Taking Stock
(Bloomberg) -- We should have seen all of this coming, no? Alarm after alarm kept ringing weeks before earnings season kicked off, with a slew of profit warnings in addition to virtually every earnings report in late September having some sort of let-down that caused shares to crater downward -- think back (way before the PPG and Fastenal blowups) to BMW, Micron, Red Hat, Nike, Conagra, FedEx, General Mills, KB Home, and seemingly every single auto-related company.
See the warning signs from the Sept. 21 Taking Stock "Something Alarming Happened This Week. It Matters." and a followup "part deux" section in the Sept. 28 column. It was a constant pounding of absurdly pitiful reactions to corporate news, so it's a bit tough to get all huffy now that some of the bigger and more global firms are pointing to some of the same pressures and seeing their shares get annihilated as a result.
Clearly there are other factors at work here -- the recent spike in rates, the non-existent U.S.-China trade negotiations, the jitters ahead of the midterm elections, and so forth -- and the recent exodus out of U.S. equity funds (last week showed the largest outflows in many months) as well as the persistent rotation into purely defensive sectors like the utilities, REITs, and consumer staples, and out of groups that worked for the entire nine-and-a-half year length of the bull market, are troubling.
So what can save this market now? OK, let's bold that heading and think this through.
What can save this market?
1) Buying on Earnings Beats
Today may be the real test of whether stocks can hold up on better-than-expected earnings, albeit off of a complete unraveling of the tape into the close (S&P futures are bouncing over 20 handles as I write this), with Microsoft currently climbing ~3%, Twitter soaring 12%, semiconductor Xilinx rising 13% (AMD got slaughtered, but it's still up ~75% year-to-date), Tesla shooting up 10%, Ford gaining 4%, and Whirlpool up 3%.
But can we really recover off of better earnings from this point forward? It's not impossible, though it has been much more of a mixed bag this quarter than previous ones, hence this story we put out yesterday: "Beat, Miss or Match, the Market Doesn't Care About Your Earnings."
Wednesday's rout was most definitely sparked by some brutal guidance and commentary from semiconductor bigwig Texas Instruments, which in turn tanked the SOX by almost 7 percent (its biggest wipeout in four years). But if Intel tonight pulls off a complete 180 of what we heard from Texas Instruments, and both Amazon and Alphabet blow out even above the whispers, it's possible the mentality of investors could change.
Side note: the tech-ish sectors (Info Tech and Communication Services) are among the best S&P sectors in terms of positive reactions so far this earnings season no matter the surprise in the print (Communication Services averaging ~3.6% gain, Info Tech up ~0.8%), as can be seen by the dot plot below, in case you want to deduce anything from that going into tonight's rush.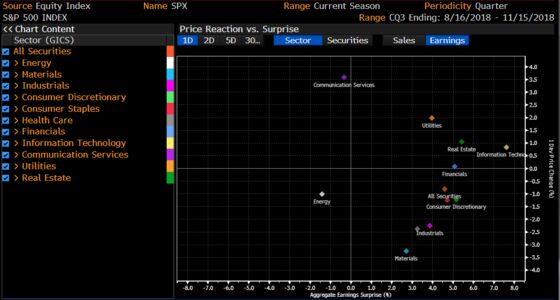 It does seem that momentum isn't on the side of the bulls at this point, to the point that rallies off strong results could be immediately met with offloading of long positions. Maybe traders have already made up their minds on growth vs value, risk vs defense, peak cycle theses, and the other big debates that we may need to get through other overhangs on the market before the possibility of a recovery comes back into play. Or maybe they just need to see more from this earnings season (there are still well over 300 companies yet to report in the S&P 500) before they make any rash decisions on growth forecasts for the next couple of years.
2) Stemming the Global Bleeding
A sustained bounce in the Shanghai composite would go a long way to establish a positive sentiment shift when it comes to the global equities tape, though the question of "why" would remain: Is it real buying from local and foreign investors or is it just a consistent crusade by the country's top officials to keep things afloat in its current bear market status?
The same can be said for the European banks. The Euro Stoxx Banks index (SX7E) has been an abomination for the better part of this year, and now in a downward spiraling motion (sinking >9% since the beginning of the month, with Deutsche Bank closing at a record low in Frankfurt yesterday). Like China stocks, a prolonged bounce would go a long way to making things seem less gloomy.
As for the trade war, any headway made on the U.S.-China negotiations front would give a lift to this tape, but that seems entirely unlikely until the midterms. Besides, who's to say that the rhetoric from the Trump administration gets any better once the election results come in?
Tapping the brakes on rate hikes is something that some traders are starting to wager on thanks to the equities meltdown, though it's unclear yet if that'll be the proper course of action. In fact, the recent barbs thrown by Trump towards Powell, which could intensify as stocks breach new lows on a daily basis, may make things a tougher for a Fed that may want to showcase its independence from Washington's influence.
Regardless, reduced volatility in rates is a must. Treasuries whipping around at a clip that jolts the 10-year yield in ranges of 5-10 bps or more, like we've seen over the past couple days, is not a good thing; recall that it was the spike in the 10-year earlier this month that helped spark the selloff in broader equities land. Less volatility overall would also help, as all of the things spooking the tape have been a recent tailwind for the market's fear gauge (the VIX broke above 25 on Wednesday vs ~17 one week ago) and we may be getting to the point of panic and capitulation if this continues.
Meanwhile, the more economically-sensitive sectors need to stop falling out of bed. The housing sector, impacted by the rising trajectory in rates, has been a complete travesty after an endless string of horrific data points.
The homebuilder ETF XHB is now down 23 of the last 26 days, and like other ill-looking cyclicals (ahem, "sicklicals"), the takeaway is that a turn in the economy for the worse is around the closer, or at least much closer than the 2-3 years out that some of the smartest minds in the business have predicted. That sentiment needs to do a radical about-face quickly before it envelops the entire investing community.
4) Holding Technical Support
It's a bit tough to back the charts when the S&P 500 continues to blow through some of the biggest levels in the market, from the whole numbers to the 200-day and 50-week moving averages -- the latter has held as bull market support on a weekly closing basis for two years now. But a very near-term reversal of massive proportions that would hold some of the aforementioned levels intact, no matter how precarious they look now, would definitely be something for the bulls to hang their hats on.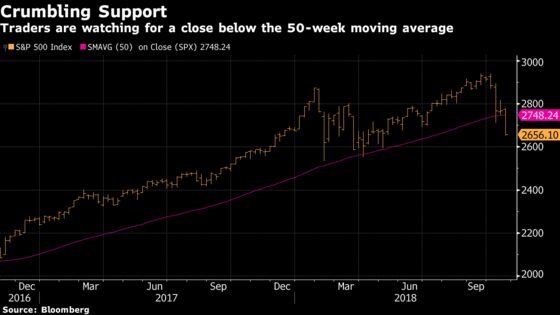 Tech with more positives (Microsoft, Xilinx, Mellanox, F5 Networks, and Apple supplier Knowles) than negatives (AMD), as mentioned above, though the trio of Intel, Amazon, and Alphabet after the bell may be the true indicator for Info Tech and Communication Services
Home appliances, like Electrolux gaining close to 4% in Stockholm, after Whirlpool caught a bid on stronger numbers
Autos with both Ford and Tesla rallying, though a different story with the auto retail space after O'Reilly fell ~4% on a profit forecast whiff
Dental stocks, from Henry Schein to Dentsply and Patterson Cos., after a ~18% blowup from the largest peer in the space by market cap, $23.4 billion Align Tech
Exchanges, like Nasdaq and Cboe, ahead of the start of the two-day SEC roundtable, where analysts have warning about potential revenue at risk from changes to market data and exchange connectivity fees
Homebuilders after an analyst upgraded the sector (more on this below), though we have another datapoint (pending home sales for Sept.) that has the potential to curb any bottom-making process in the space, like the bust that was the new home sales from Wednesday
Sectors that may move ahead of earnings later this morning include the airlines (American Airlines), rails (Union Pacific), and building materials (USG Corp.)
Sectors that may move ahead of earnings tonight include the FAANGs (Amazon, Alphabet), semis (Intel), memory (Western Digital), social media (Snap), cybersecurity (Proofpoint), online travel (Expedia), building products (Mohawk), restaurants (Chipotle), toys (Mattel), casinos (Boyd Gaming), booze (Boston Beer), biotech (Gilead), steel (AK Steel), chemicals (Eastman), oil services (National Oilwell), solar (First Solar)
Notes From the Sell Side
A quick look at what the three different types of Tesla analysts are saying:
Buy -- Baird's Ben Kallo said the strong free cash flow bolsters the company's balance sheet and should be sufficient to allay investor fears over cash burn: "We believe the TSLA narrative is starting to change as the company transitions to becoming sustainably profitable."
Hold -- Morgan Stanley's Adam Jonas boosts estimates materially, though still questions the sustainability: "While we acknowledge the significance of Tesla's very strong 3Q result, we do not believe investors will assume the company is fully self-sufficient without a more sustained period of execution."
Sell -- Cowen's Jeffrey Osborne was impressed with the margin results, the company's control of opex and capex, and the cash improvements, but remains concerned about competition, long-term capex needs, and valuation
Evercore ISI is upgrading the homebuilders after the selloff (KBH, MDC, MTH, PHM, TOL, and TPH all raised), with the smallcaps trading at a 20% discount to book value, which is "a traditional buy signal." Book values should still grow even if earnings slow dramatically over the next two years, "so valuations imply that the builders need to take significant asset impairments – an unlikely outcome, in our view."
Tick-by-Tick Guide to Today's Actionable Events
Today -- SEC hosts roundtable on market data and market access (day one) Nasdaq, Cboe Are Most Exposed to SEC Roundtable: Raymond James
Today -- BIIB/Eisai to release Alzheimer's data
7:00am -- TWTR, SHOP, CMCSA, MO, HSY, LEA, SPG, KIM, SHW, COP, MCK earnings
7:30am -- AAL, CME, CELG earnings
7:45am -- ECB rate decision
8:00am -- UNP, ALK, USG, TSCO earnings
8:00am -- TWTR, MRK, WHR, DNKN, NLSN earnings call
8:30am -- Durable Goods, Wholesale Inventories, Initial Jobless Claims
8:30am -- Waratah Capital's Brad Dunkley at Capitalize for Kids conference in Toronto
8:30am -- WWE earnings
8:30am -- SHOP, CMCSA earnings call
8:50am -- FrontFour Capital's Zachary George at Capitalize for Kids conference
9:00am -- GRUB earnings
9:00am -- BHGE, ENTG earnings call
9:30am -- IPOs to start trading after the open: YETI (YETI)
9:45am -- Bloomberg Consumer Comfort
10:00am -- Pending Home Sales
10:00am -- NEM, VLO, KKR earnings call
10:30am -- EIA natgas storage
10:30am -- BMY earnings call
10:30am -- ETH CEO Farooq Kathwari on Bloomberg TV
10:35am -- Trian Fund's Ed Garden at Capitalize for Kids conference
10:50am -- LUV CEO Gary Kelly on Bloomberg TV
11:10am -- UNP CEO Lance Fritz on Bloomberg TV
11:15am -- Chilton Investment's Jennifer Foster at Capitalize for Kids conference
12:00pm -- COP earnings call
12:15pm -- Fed's Clarida speaks on economic outlook
1:00pm -- Atlantic Investment's Alex Roepers at Capitalize for Kids conference
1:40pm -- Tudor Investments' Ulrike Hoffman at Capitalize for Kids conference
2:00pm -- Trump to make remarks on drug pricing
2:25pm -- ValueAct Capital's Jeff Ubben at Capitalize for Kids conference
2:45pm -- Carlyle Group's David Rubinstein at Capitalize for Kids conference
3:30pm -- TWTR CFO Ned Segal on Bloomberg TV
4:00pm -- LSCC earnings
4:01pm -- AMZN, LVS, GILD, CERN earnings
4:02pm -- GOOGL, FSLR (roughly) earnings
4:05pm -- INTC (roughly), CY, EXPE, PFPT, VRSN, MHK, FBHS, MAT, DECK, BYD, LPLA, CENX, BMRN, SYK earnings
4:08pm -- LOGM earnings
4:10pm -- WDC, CMG earnings
4:15pm -- SNAP, SAM, PFG, JEF, HIG, FTV (roughly), PRO, SWN earnings
4:18pm -- DFS earnings (roughly)
4:30pm -- GOOGL, CMG, EMN (roughly), FSLR earnings call
4:45pm -- AKS earnings (roughly)
5:00pm -- INTC, SNAP earnings call
5:30pm -- AMZN, WDC earnings call
6:00pm -- NOV earnings (roughly)
8:20pm -- Dolphins at Texans (-7.5)
9:00pm -- Fed's Mester speaks to Money Marketeers of NYU
Tonight -- IPOs to price: Gamida Cell (GMDA)