Saudis Must Risk Trump's Wrath to Balance Oil Market: Julian Lee
(Bloomberg) -- Saudi Arabia needs to cut oil production and persuade fellow producers to follow suit if it is to avoid a further price rout. That risks angering President Donald Trump at a time when the U.S. is still considering its response to the assassination of Jamal Khashoggi, writes Bloomberg oil strategist Julian Lee.
Oil forecasts for 2019 from the International Energy Agency and the Organization of the Petroleum Exporting Countries show global stockpiles rising next year by as much as 1.7 million barrels a day, if OPEC continues producing at the current level of close to 33 million barrels a day. Saudi Arabia's pledge to reduce daily exports by 500,000 barrels next month did little to reassure the market and earned a swift rebuke from the White House via Twitter.
If it cuts output, Saudi Arabia risks antagonizing the U.S. president just as Congress considers sanctions in response to the killing of Khashoggi at the kingdom's consulate in Istanbul on Oct. 2. U.S. lawmakers have taken a much tougher stance against Crown Prince Mohammed bin Salman than has President Trump. Cutting production to boost prices while Trump is tweeting that they need to fall risks eroding his support for the Saudi leadership and perhaps weakening his opposition to sanctions.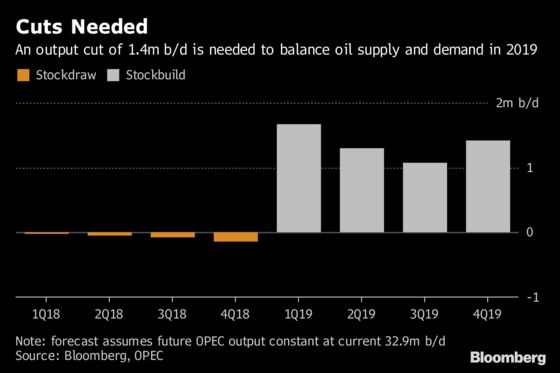 If it doesn't cut, the kingdom increases the odds of oil prices falling further next year, once the boost from peak winter refinery demand ends. OPEC's latest forecast for 2019, published Tuesday, shows that OPEC output needs to come down by 1.4 million barrels a day next year. The International Energy Agency sees inventories rising even faster if OPEC output remains unchanged, building by 2 million barrels a day in the first half of 2019.
Projections of fiscal break-even oil prices by the International Monetary Fund suggest that Saudi Arabia could become a price hawk in 2019. The kingdom needs $73.30 a barrel to balance its fiscal budget, down from $83.40 in 2018. Among Middle East and North African OPEC members, only Libya, Iran and Algeria need higher prices. With Brent crude trading close to $66, the kingdom needs to act fast if it hopes to balance the budget next year.
OPEC is scheduled to meet in Vienna on Dec. 6 to decide its output policy for the first half of 2019 and to convene with its non-OPEC partners the following day. Output cuts should gain support within OPEC -- Iran and Venezuela would back them, as neither will be required to reduce its own production. Saudi Arabia may have a tougher job persuading Russia and other non-member countries to stick with output restraint for a third year.
NOTE: Julian Lee is an oil strategist who writes for Bloomberg. The observations he makes are his own and are not intended as investment advice