Saudis Meet Some Oil Buyers' Requests Ahead of OPEC+ Panel
(Bloomberg) -- Saudi Arabia will fulfill the crude oil supply requests of several buyers in Asia and some in Europe just days before OPEC+ officials are scheduled to discuss whether to ease their historic output cuts.
Saudi Arabian Oil Co. informed at least nine customers in Asia that it will give them all of the crude oil supplies they had sought for cargoes loading next month, according to refinery officials who received the notice from the producer. The notification came just before a July 15 online meeting of a panel that will re-visit the production curbs by the OPEC+ coalition, which are set to relax at the end of this month.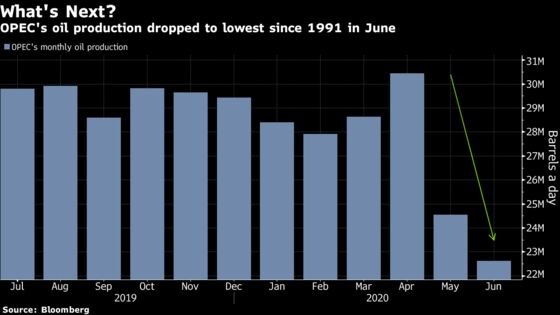 Aramco reduced supply for August sales to five other processors in Asia, its biggest market, said refinery officials in charge of company crude procurement. The cuts, mainly for heavier grades of crude, took place as the kingdom prepares for summer when such oil is used for power generation due to a surge in air-conditioning demand.
Supply to the U.S. and Europe was also mixed. Aramco will cut August supplies to all buyers in the U.S., according to one person with knowledge of the decision. Another said customers there had asked for -- and will receive -- smaller quantities than stipulated in their contracts, the same as happened in July. In Europe, at least two buyers will receive the amount of oil they asked for and at least two others will get less, according to people with knowledge of the allocations.
Saudi Aramco declined to comment on the matter when contacted by email.
Producers including Saudi Arabia, Iraq and Kuwait as well as their allies like Russia have slashed their exports as OPEC+ embarked on its biggest-ever joint oil production cuts amid virus-driven demand destruction. The cutbacks, however, are meant to wind down after July, and the Joint Ministerial Monitoring Committee will meet Wednesday to consider whether to restore some supplies as the group had originally planned.
In the coming days, Iraq's SOMO is also expected to release details on allocations for next month. While the state-run oil marketer has been pressured in the past few months to meet its given cutback quota, the producer's next move may provide a hint of its own stance ahead of the group's decision on overall output curbs.