Saudis Leave Asia Oil Pricing Unchanged and Raise for U.S.
(Bloomberg) -- Saudi Arabia kept oil pricing unchanged for its main market of Asia, defying expectations of a cut after a key OPEC+ committee expressed confidence that crude supply and demand are re-balancing.
State oil producer Saudi Aramco left its Asia pricing for March at the highest levels since at least September. It raised prices for all crude grades for buyers in the U.S. and Europe, according to a statement.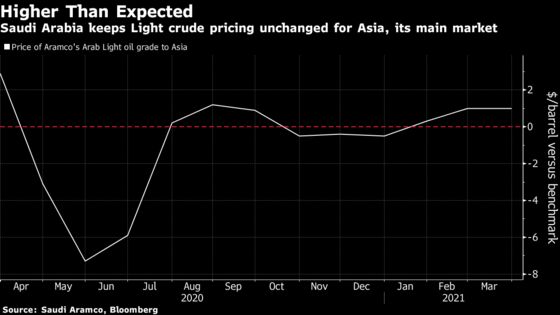 An OPEC+ committee said Wednesday that global oil inventories will drop this year to their five-year average. Commercial inventories, a gauge of whether markets are oversupplied, include barrels held in storage in developed economies that provide regular data.
Saudi Arabia surprised markets last month by announcing plans to unilaterally slash 1 million barrels a day of oil supply in February and March. The pledge has helped buoy benchmark Brent crude by almost 15% this year to around $59 a barrel.
Even so, refiners' profit margins are tight, with the latest virus waves curbing fuel use in many major economies. With more crude becoming available from sources such as Russia and the Americas, some buyers had expected Aramco to reduce its official selling prices.
Instead Aramco kept its benchmark Arab Light crude for Asia steady at $1 a barrel above the benchmark, the highest premium for the grade since August. Aramco had been expected to pare the pricing by 20 cents, according to a Bloomberg survey of traders and refiners.
Aramco raised all pricing to the U.S. by 10 cents a barrel and increased prices to Europe by $1.30 or $1.40.
Apart from the Saudi promise to rein in supply, the Organization of Petroleum Exporting Countries and its allies agreed last month to leave production largely unchanged. Prices remain below the levels many producers -- including Saudi Arabia, OPEC's de facto leader -- need to balance their budgets.
Committees of the alliance, known as OPEC+, met this week to review members' compliance with their quotas. It urged them to remain "vigilant and flexible" in managing production. Ministers led by Saudi Arabia and Russia "stressed the importance of accelerating market re-balancing without delay" amid "uncertain" prospects for the global economy.
The rollout of vaccines is positive for the recovery of global oil demand, the group said. Iraq and Kazakhstan, which hadn't fully met their quotas in the past, pledged to work harder to comply.
Saudi Arabia's pricing decisions usually set the tone for other Middle Eastern suppliers, including Iraq and the United Arab Emirates, the second- and third-largest producers in OPEC.