Saudi Unemployment Fell in Fourth Quarter As Virus Slowed
(Bloomberg) -- Unemployment among Saudi nationals fell to 12.6% in the fourth quarter, moving closer to pre-pandemic levels as coronavirus cases in the kingdom declined and business picked up.
The number compares to 14.9% in the previous quarter, according to the General Authority for Statistics. The drop was particularly dramatic for Saudi women, for whom unemployment declined from over 30% to 24.4%, while female participation in the labor force continued to rise. However, it was unclear where jobs were being created, as the public sector added around 12,000 Saudi workers but the number in the private sector fell by nearly 13,000. The labor market also continued to shed expatriate jobs, with the number of foreign workers falling by more than 100,000.
The headline figure was an improvement on the third quarter, when unemployment declined only slightly even as the government loosened coronavirus-related restrictions and businesses reopened.
Job creation is the biggest domestic challenge facing Saudi Crown Prince Mohammed bin Salman as he reshapes an economy long dependent on exported oil and imported labor. Unemployment among citizens hit a record high of 15.4% last year, as the pandemic set back the de facto ruler's Vision 2030 plan to transform the world's largest oil exporter into a regional business and tourism hub.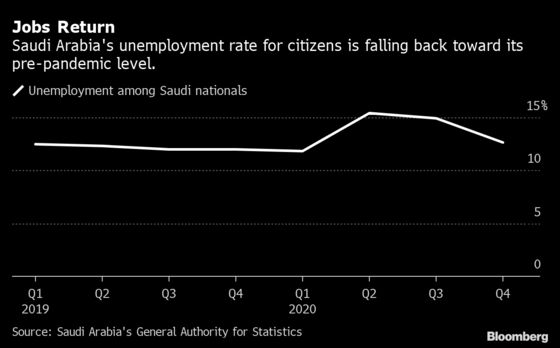 The government is the main employer of Saudis -- a model it can't afford to sustain -- while the rest of the economy relies on cheap labor from Asian and other Arab countries. The double shock of the virus and energy market turmoil hit businesses hard last year and sparked an exodus of foreigners, who make up about a third of the population of 34 million.
However, more Saudis are looking for work with private companies, including blue collar jobs they once avoided. Among the unemployed, 96% of Saudi men and 92.1% of women said they would accept a job in the private sector, according to the statistics authority.
Coronavirus cases in Saudi Arabia peaked last summer, then gradually decreased over the third and fourth quarters as the government lifted restrictions on gatherings and businesses. Gross domestic product grew 2.5% in the fourth quarter compared to the previous three months, though it shrank 3.9% compared to the same period in 2019.
The recovery could be spotty this year, after the kingdom's vaccination campaign got off to a slow start and a rise in coronavirus cases early on led to renewed restrictions. Officials have warned of a potential new wave of infections as the Islamic holy month of Ramadan -- a time of family and social gatherings -- approaches in mid-April.