Saudi Stocks Sink as Tension With U.S. Escalates Over Khashoggi
(Bloomberg) -- Saudi Arabian equities slumped on concern the nation's relationship with the U.S. may sour over the disappearance of Washington Post columnist Jamal Khashoggi.
The Tadawul All Share Index sank as much as 7 percent, the most since 2016 on a closing basis, before trimming its decline to 3.5 percent at the close. All but seven of the gauge's 186 members fell, led by Saudi Telecom Co. and Jabal Omar Development Co. The number of shares exchanged was more than double the 30-day average.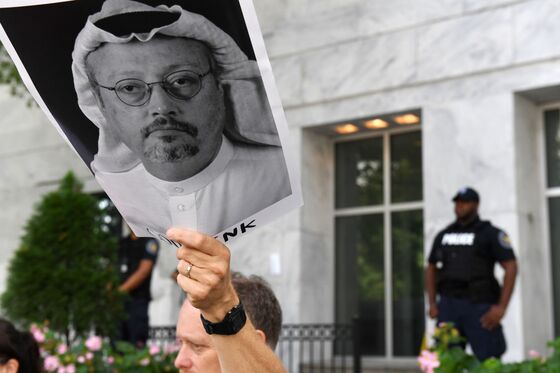 President Donald Trump said the U.S. could take "very, very powerful, very strong, strong measures" against the country if its leaders are found responsible for the Saudi citizen's fate. The kingdom, which denies involvement in Khashoggi's disappearance, announced it would retaliate against any punitive measures with an even "stronger" response, the Saudi Press Agency reported, citing an official it didn't identify.
The escalation in tension between the two allies, and growing calls for Saudi Arabia to explain what happened to the missing writer, have raised concerns whether the kingdom can attract foreign investors needed to overhaul its economy. The nation has been reforming its financial markets and has won inclusion in FTSE Russell and MSCI Inc. indexes for emerging markets.
"You are talking about a geopolitical situation becoming even worse and Saudi Arabia is going to show its stubborn attitude again," said Naeem Aslam, the chief market analyst at Think Markets UK in London. "This is not going to sit well with foreign investors. From where we sit, we don't see any demand for Saudi equities at all."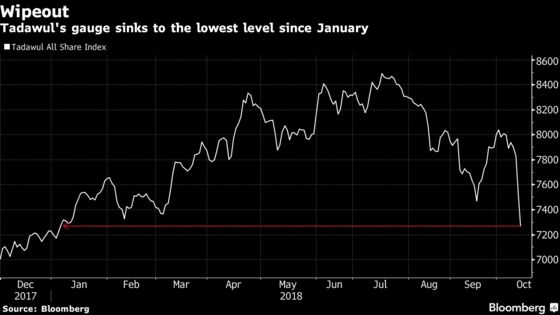 Some company leaders have backed away from the "Davos in the Desert" event later this month intended to showcase Prince Mohammed bin Salman's modernization plan for his nation. Still, Trump said the U.S. would be "foolish" to cancel large arms deals with the Gulf state.
The Tadawul's main index has almost erased its year-to-date gain amid a four-day sell-off, sinking to the lowest level since January. Saudi Telecom declined 6.2 percent, Jabal Omar lost 6 percent and Saudi Basic Industries Corp. retreated 1.9 percent.
"Saudi is one of the world's top oil producers, so one can't sanction Saudi in the same way that one could sanction Iran," Richard Sneller, the head of emerging-market equities at Baillie Gifford & Co. in Edinburgh, said last week. "Having said that, there are aspects of the Saudi regime that some people find less palatable and there are competing interests within Saudi as well. This is a very complicated country."
In Saudi Arabia's stock exchange 251m shares change hands, more than twice its 30-day average

Seven stocks were down the the limit 10%
Index has fallen 8.5% in four days; still up 0.6% year-to-date
NOTE: Saudi benchmark fell 3.9% on Oct. 11, when the MSCI Emerging Markets Index plunged 3.2%. The MSCI EM gauge recovered part of that loss on Friday, when it gained 2.7%

Benchmark gauges in Kuwait and Dubai drop 1.9% and 1.5%, respectively

In Kuwait, all but one of the 16 members of the Boursa Kuwait Premier Market Price Return Index fall, dragging the measure down the most in almost a year
In Dubai, Emaar Properties and Dubai Islamic Bank are the biggest drag on the index, which closes at the lowest level since January 2016

READ: Insurance Stocks Provide Haven in Stormy Year for Dubai Equities

Abu Dhabi's ADX General Index slips 0.7%

Telecom service provider Etisalat climbs 0.4% after saying its board approved voting rights for foreign shareholders

MORE: Abu Dhabi's Cepsa IPO Said to Face Muted Investor Appetite

Egypt's EGX 30 rises 1.9%

Medinet Nasr advances 10% after Six of October's board approved a tender offer for Medinet Nasr. Sodic gains as much as 10%, before trimming the increase to 6.1% at close

MORE: Egypt's Sodic to Buy at Least 51% of Medinet Nasr

The Egyptian market "has been falling for a long time, and was waiting for any positive news like the deal to rebound again," says Sherif Shebl, head of GCC sales at Pharos Holding for Financial Investment

In Israel, the TA-35 advances 0.9% as of 4:03 p.m.
MORE: U.A.E. Enacts Law That Would Allow It to Sell Sovereign Bonds