Wall Street's Eyes on Riyadh Just as Wealth Fund Pivots Home
(Bloomberg) -- Saudi Arabia's $400 billion sovereign wealth fund will find it tough to repeat its success of recent years when it made its mark globally as a source of cash for asset managers, tech entrepreneurs and tycoons.
Ahead of the kingdom's flagship investment conference this week, Saudi Crown Prince Mohammed bin Salman laid out the fund's strategy through 2025. It'll spend at least $40 billion a year at home, creating new cities and industries, along with 1.8 million jobs. It plans to more than double assets it controls to over 4 trillion riyals ($1.1 trillion), putting it on par with the current size of Norway's sovereign fund, the world's biggest.
But as investors tune in Wednesday to the annual meeting -- held as a hybrid virtual-physical event due to Covid-19 -- many will recall that Saudi Arabia's track record on ambitious projects is patchy.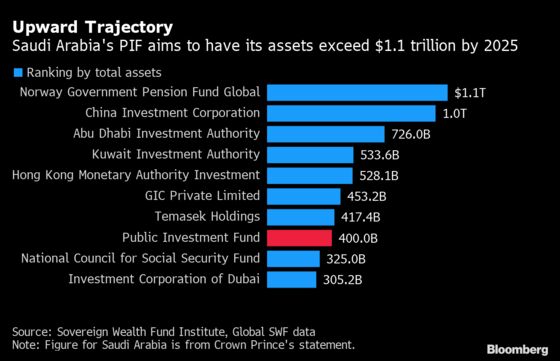 Since the de facto ruler unveiled his sweeping economic transformation plan in 2016, Saudi Arabia has doubled non-oil revenue, opened up to tourists, created an entertainment industry and seen a jump in women joining the workforce. For the conservative Islamic country, those changes are monumental.
But Prince Mohammed's also presided over two economic downturns, with unemployment rising to a record high and foreign direct investment 37% lower than in 2016 -- partly due to coronavirus and lower oil prices.
What Bloomberg Economics Says...

"A chunk of the increase in Saudi non-oil revenue stems from one-off settlements following the government's declared anti-corruption campaign. This process will conclude at some point, making this income unsustainable."
That hasn't stopped him announcing new mega-projects and trillion-riyal targets before existing goals are accomplished.
"The main challenges for developing the local economy revolve around implementation and overambitious scale of change," Eurasia Group wrote in a report. "Transforming economic structures in a quick amount of time is not simple, even if the political direction is clearly set."
Once an understated local entity, PIF is becoming an economic engine, job creator, state developer and partner for foreign companies. Its next phase may see it enter almost every corner of the kingdom's economy. The fund owns most of the mega-projects the crown prince has championed, including the futuristic city, Neom.
It has more than doubled its assets in the five years since Prince Mohammed has been chairman to about 1.5 trillion riyals, creating 331,000 jobs directly and indirectly, he said Sunday. Its returns on investment increased from about 3% between 2014 and 2016 to 8% from 2018 to 2020, according to the PIF website.
Riyadh-based investment bank NCB Capital estimates the wealth fund's investments in 2021 will bring overall capital expenditure -- including spending by government-related entities -- to 8.8% of gross domestic product, compared with an average of 6.2% over the past five years.
The PIF and its investment conference have drawn some of the biggest figures in global business. BlackRock Inc. has established a Saudi office, and banks including Goldman Sachs Group Inc. and Credit Suisse Group AG have expanded their presence, keen for a piece of the action.
Targets for the next decade are even loftier: new projects worth as much as 1 trillion riyals by 2025 -- and an additional 2 trillion riyals by 2030.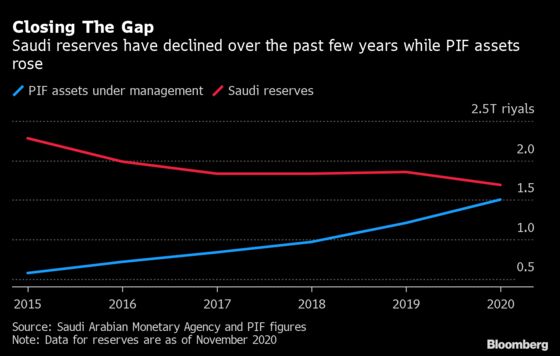 With few details on how new ventures will be funded, though, analysts are cautious.
Bank of America Corp estimates PIF assets could rise to $500 billion by 2028, based on historical investment returns and Aramco disbursements for the Saudi Basic Industries Corp. purchase.
"The targets do look tight, in part due to the broad-based nature of the PIF's various objectives," said Monica Malik, chief economist at Abu Dhabi Commercial Bank. "Foreign funding and investments will also be important for meeting these targets."
The PIF said it will be financed from retained earnings from existing investments, asset transfers from the government, and borrowing. That includes a $40 billion transfer from central bank reserves last year, and nearly $30 billion in proceeds from Aramco's initial public offering in 2019.
If the scale is ambitious, unrealistic even, it's no accident. In an interview with Bloomberg in 2018, Prince Mohammed said he deliberately sets high targets to motivate officials to reach further.
"If we achieve 100%, great," he said. "If we achieve 50%, great! Better than achieving nothing."