Saudi Prince Alwaleed's Net Worth Tumbles 58%
(Bloomberg) -- The fortune of Saudi Arabia's richest person, Prince Alwaleed bin Talal Al Saud, has dropped to $15.2 billion, its lowest level since the Bloomberg Billionaires Index began tracking him in April 2012.
The value of his portfolio of public equities, stakes in closely held companies and Saudi real estate fell by $760 million in the first three quarters of the year, according to an emailed document from his private office. The decline was due to "minor adjustments" in the valuation of assets and some disposals, including the sale last month of his stake in U.S. ride-hailing company Lyft Inc. to his investment company, Kingdom Holding Co.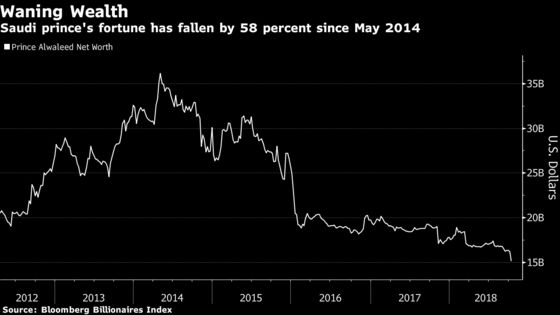 The world's wealthiest people have, in aggregate, lost 2 percent of their wealth so far this year, or $103 billion, according to the index.
Alwaleed's most valuable asset, a 95 percent stake in Kingdom Holding, has dropped 70 percent of its value since hitting a record high in 2014. The firm's shares fell more than 20 percent following Alwaleed's sudden detention in an anticorruption crackdown last November and have never fully recovered.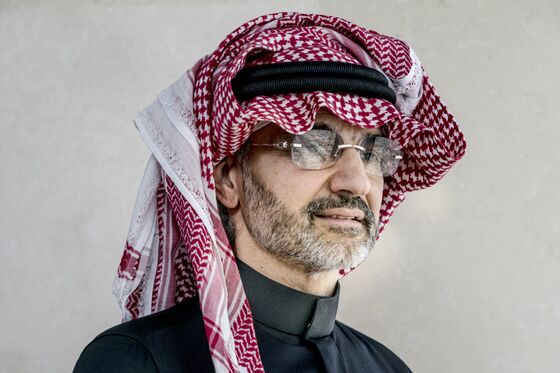 One of dozens of princes, ministers and senior officials held at the Ritz-Carlton, he was released after 83 days and said he signed a "confirmed understanding" with Saudi authorities that left him free to function with "zero conditions." Earlier this month, Kingdom Holding announced it was close to signing a $1 billion loan, its first borrowing since Alwaleed was detained.
The document showed an increase in the value of his media company, Rotana, following its August investment in Deezer SA, a Paris-based music streaming firm.