Saudi's Lobbyists Feel Heat of Khashoggi Murder
It's not just Donald Trump who has cultivated a cozy relationship with Riyadh. Saudi Arabia has been a cash cow for Washington's influence industry.
Over the past decade, D.C.'s lobbyists have raked in $76.9 million advocating for the Saudis on everything from nuclear power to fending off legislation that would leave the kingdom liable in lawsuits filed by family members of victims in the Sept. 11 terrorist attacks, Ben Brody, Naomi Nix and Bill Allison report.
That lucrative business is now facing its biggest test in years as the killing of U.S.-based journalist Jamal Khashoggi inside the Saudi consulate in Istanbul draws worldwide criticism.
Even Trump, who has built his Middle East policy around close relations with the kingdom, has said the Saudis' shifting explanations amounted to "one of the worst in the history of cover-ups."

Saudi authorities came close yesterday to acknowledging that Khashoggi's murder was premeditated. It takes a lot to shock K Street, and it's unclear whether international outrage will really make Saudi money unwelcome. But it's having an impact.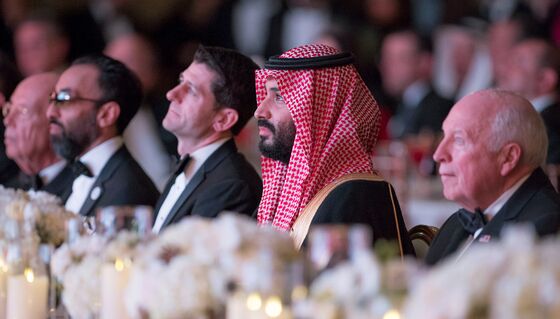 Endorsing Italy | Trump threw his weight behind Italy's hard-line policy on immigration, offering support to the populist coalition government after a bruising week of budget battles with the EU. Deputy Premier Matteo Salvini provoked widespread condemnation in Europe when he prevented migrant rescue ships for docking in Italian ports this summer. "I agree with their stance 100%," the president said in a tweet.
Travel ban 2.0 | Trump is considering an order to block the entry of migrants at the southern border using the same authority as an earlier travel ban that was aimed predominantly at Muslim-majority nations. As thousands of Central Americans make their way toward the U.S., the action would effectively bar asylum seekers. The president has intensified his anti-immigration rhetoric ahead of midterm elections in an effort to fire up his base.
Going green | Democrats in the U.S. House are quietly making plans to use hearings and investigations to push back against the Trump administration's environmental agenda if they win a majority on Nov. 6, Jennifer A. Dlouhy reports. "They won't be able to set the tone, but they will be able to occasionally play offense, something they haven't been able to do," said Republican strategist Mike McKenna.
RIP INF Treaty | Russia says it's outraged by the U.S. decision to pull out of the Intermediate-Range Nuclear Forces Treaty, but when President Vladimir Putin was asked not so long ago if it had any value, the answer was no. With both signatories in reality gunning for it, the treaty — which eliminated thousands of nuclear weapons from Europe — appears doomed. Yet Europeans, who have the most to lose, have no say. The question they're asking is why the rush. Their best answer? U.S. National Security Adviser John Bolton.
First woman | Georgia may break the glass ceiling by choosing its first female president in elections on Sunday. French-born Salome Zurabishvili would be the only woman so far elected president in any former Soviet republic outside the Baltic States. She's supported by the ruling party of the Caucasus republic's richest man. With a record 25 candidates on the ballot, a runoff seems likely in Georgia's last direct presidential elections as part of constitutional changes.
Brazil presidential front-runner Jair Bolsonaro saw the substantial lead he holds over his left-wing rival fall slightly in a poll ahead of Sunday's runoff vote. Click here for everything you need to know about the election and check back Sunday for a special edition of Balance of Power with all the latest.

As Trump continues to stump on behalf of Republicans today in North Carolina, Erik Wasson takes a closer look at the outsize role the president is playing in Montana's tightening Senate race.
And finally ... When Trump offered to pay $10,000 from his personal charitable foundation for a six-foot oil portrait of himself, the future president only meant to "get the bidding started" during a 2014 auction at his Mar-a-Lago resort, his lawyer told a New York judge. But no one else bid, so now "he's stuck with the painting," attorney Alan Futerfas said in a packed Manhattan courtroom yesterday as he argued to have New York Attorney General Barbara Underwood's lawsuit against the foundation tossed out.