Saudi Lending to Private Sector Surges to Fastest Since 2016
(Bloomberg) -- Lending to Saudi Arabia's private sector grew at the fastest pace since May 2016, a sign the kingdom's non-oil economy is sustaining momentum as businesses are borrowing again to invest.
Bank claims on the private sector rose 8.5% in January from a year earlier, after a gain of 7% in December. It rose a monthly 1.1%, according to data released on Thursday by the Saudi Arabian Monetary Authority.
Credit is flowing again as the world's largest oil exporter recovers from a slump that followed the 2014 crash in crude prices. Saudi Arabia's non-oil economy grew at its fastest pace in about five years during the third quarter of 2019, according to the latest figures available.
But plans to cut government spending this year could challenge the kingdom's ability to sustain that rate, particularly as the fallout of the coronavirus outbreak pushes oil prices lower.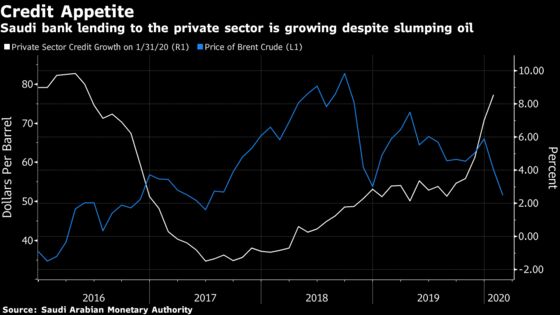 Economists had expected strong private-sector credit growth in November and December, linking it to a spike in borrowing to participate in the initial public offering of the kingdom's state oil giant, Saudi Aramco.
The continued growth in January is "positive" and an indication that "demand is picking up," said Monica Malik, chief economist at Abu Dhabi Commercial Bank.
"It's very much linked to the investment activity and corporates looking to raise funds to support funding of the investment plans," she said.