Another Saudi Family Empire Steps Into Glare of Public Markets
(Bloomberg) -- Amid a rush of initial public offerings, another Saudi family business is set to capitalize on soaring demand for stocks in the kingdom.
Riyadh-based Almunajem Foods Co. on Thursday became the latest family-owned firm to say it will test the equity markets. It appointed HSBC Holdings Plc as adviser to manage its IPO of a 30% stake, representing 18 million shares.
Now one of Saudi Arabia's largest private food companies, Almunajem traces its roots to the early 1950s, when the group's founder, Abdullah Ali Almunajem, set off for Riyadh from the Al-Qassim region. He built up his fruit and vegetable business by buying from Syria and Lebanon, putting the company on the path to relying on imports that it's now expanding away from.
Almunajem is working to grow its domestic production, Chief Executive Officer Thamer Abanumay said in an interview. 
The company already completed an expansion of an existing meat and poultry-product factory in Jeddah earlier this month, increasing capacity by 60%. It's part of a broader shift by the government to promote local production in the interests of food security.
More family-owned companies have been listing in Saudi Arabia as officials try to deepen its capital markets and shake up traditional ways of doing business. Many are looking to raise cash from their established businesses while equity valuations are high and IPOs are being massively oversubscribed.
Grocery chain BinDawood Holding Co. sold a 20% stake last year, helping to buttress the clan's efforts to diversify into other assets. Other family firms to sell shares include Dr. Sulaiman Al Habib Medical Services Group Co. and Theeb Rent-a-Car. The Olayan family, which runs one of Saudi Arabia's biggest conglomerates, may revive plans to take some of its companies public.
Meanwhile in nearby Dubai, the government plans to encourage private and family-owned businesses to list on its stock market as the business hub seeks to catch up with Abu Dhabi and Riyadh in the Middle East IPO rush. 
Riyadh has lately been the hottest market for IPOs in the region, with listings of companies such as ACWA Power International, backed by the kingdom's wealth fund, and Saudi Telecom Co.'s internet-services unit.
The benchmark Tadawul All Share Index has surged to the highest levels since 2006 on the back of soaring oil prices and amid increased retail trading activity.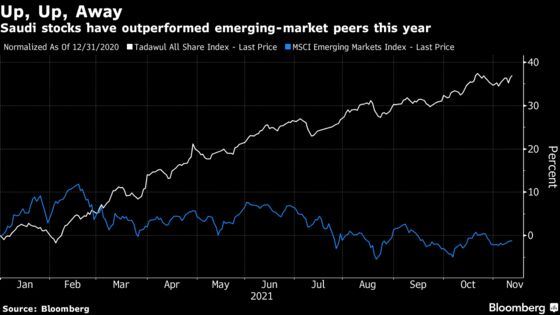 Almunajem's IPO proceeds will go to the family, "and they will decide where they will invest it, maybe with their businesses and maybe back to the economy of Saudi Arabia," Abanumay said. The book building process will start next week, with the stock price set on Nov. 21.
As Saudi officials push to increase local manufacturing and strengthen food security, the import-heavy company is looking to grow partly by exploring more production at home, the CEO said.
The firm supplies foodstuffs to about 18,000 outlets, including retail, food services, and wholesale channels. Revenue last year exceeded 2.5 billion riyals ($677 million), an increase of 4.9% from 2019 as the pandemic boosted consumer spending on food.
The first half of this year has been "more challenging" after 2020's "one-off" surge, with revenue falling 3.6% compared to the same period last year and profit declining, the company said in a statement.
Higher animal feed and freight prices have also increased costs for the company. But by beefing up inventories ahead of time and relying on "a diverse portfolio of suppliers, we managed to push this cost down," Abanumay said.
Importing from over 30 countries including France, Spain, India and Brazil, "really gives us the flexibility that we can maneuver if there are any challenges we face in the supply chain," he said.