Saudi Crown Prince Wants to Make Friends Again
(Bloomberg) -- It's hard to top Donald Trump, Xi Jinping or Vladimir Putin, but the spotlight at the confab of world leaders in Argentina this week could fall on someone currently even more controversial.
Saudi Crown Prince Mohammed bin Salman flew into Buenos Aires on Wednesday to attend the Group of 20 summit starting on Nov. 30. Rather than the great economic and social reformer feted by western allies, he arrived as a man seeking rehabilitation. Who he speaks to – and how those interactions play out – will be significant.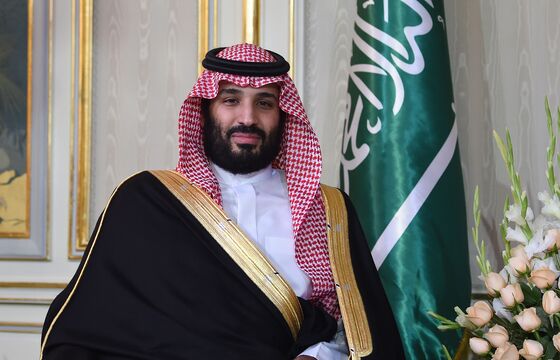 The gruesome murder of critic and columnist Jamal Khashoggi in the Saudi consulate in Istanbul last month has turned Prince Mohammed into a divisive figure on the international stage. Fresh off a tour of relatively friendly nations in the Middle East, his appearance at the G-20 is a sign he feels confident he's secure at home and the worst of the global backlash is over. The question is whether that translates into a quick end to his isolation.
Trump has deflected criticism of his administration's close ties with the crown prince and praised him for lower oil prices. The U.S. president said on Thursday he was open to meeting with the crown prince, though no meeting was currently scheduled.
Putin, who would be eager to talk about oil, intends to meet with Prince Mohammed, according to people familiar with the Russian leader's plans. Turkish officials said the Saudis requested a meeting with President Recep Tayyip Erdogan, whose government has been disclosing details on the killing. Indian Prime Minister Narendra Modi was scheduled to meet the prince on Thursday afternoon.
Others, particularly from western democracies, are more likely to shun him. Officials in France, Germany and Canada said their leaders would be unlikely to meet him even if he asks, though French President Emmanuel Macron will now have sideline talks with the crown prince. British Prime Minister Theresa May's office declined to say whether or not she would hold a bilateral meeting. 
Canadian Foreign Minister Chrystia Freeland said on Thursday her country wants a credible inquiry into Khashoggi's death and is reviewing arms sales to Saudi Arabia.
"Recovering in those parts where the damage to his image is tangible will be difficult," said James M. Dorsey, a Middle East scholar at Nanyang Technological University in Singapore. "The G-20 is the ultimate litmus test and will highlight the divide."
The killing of Khashoggi generated widespread criticism of the 33-year-old prince's leadership and foreign policies. He went from the young Saudi ruler who was going to pull the kingdom into the future to "beyond toxic" for a growing number of U.S. and European officials.
Saudi Arabia has said Prince Mohammed was unaware of any plan to take out Khashoggi. Saudi prosecutors have charged 11 people over the murder and are investigating a close aide to the prince. Argentine President Mauricio Macri said on Thursday the killing may be discussed by the G-20 leaders at their meeting.
In the meantime, the royal family has been trying to limit the fallout and show it's business as usual.
The prince flew to the United Arab Emirates, a key regional ally, on Nov. 22 before going onto Bahrain, Egypt and Tunisia, where journalists and activists demonstrated against the visit with a large banner depicting a man dressed in Gulf clothing and his hand resting on a chainsaw. The trip followed a whirlwind tour inside Saudi Arabia with his father, King Salman.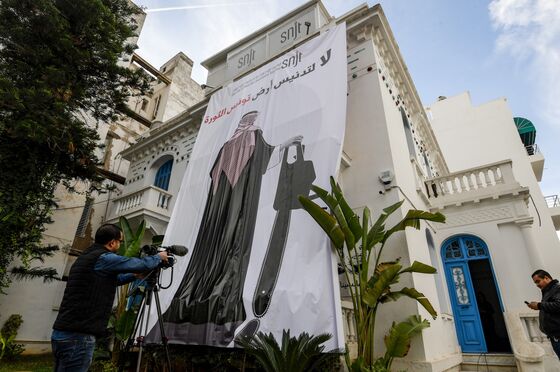 Since rising to power, Prince Mohammed has made a series of foreign policy missteps, which have arguably done more to hurt the country's leadership position than bolster it. The Yemen war is in its fourth year, with millions suffering from hunger and disease and the death toll in the tens of thousands. There are no signs of a decisive victory for the Saudi-led coalition against the Shiite Houthi rebels.
Days ahead of his arrival, Human Rights Watch filed a submission with an Argentine federal prosecutor over the prince's role in alleged war crimes by the Saudi-led coalition in Yemen and torture by Saudi officials. The submission focused on strikes against civilians. "Many of these attacks – if carried out with criminal intent – indicate possible war crimes," it said.
Prince Mohammed isn't without international support, though. There are regional allies who are dependent on Saudi largess and Trump, who has repeatedly avoided blaming the prince for Khashoggi's killing and praised Saudi Arabia for bringing down oil prices.
Trump's refusal to call out the prince has angered American lawmakers, who have argued for the suspension of weapons sales and tougher sanctions. A formal sit-down at the G-20 event, where he is also meeting with Xi and Putin, would only provide fuel to critics who argue he's too cozy with authoritarians and dismissive of allies who share U.S. values.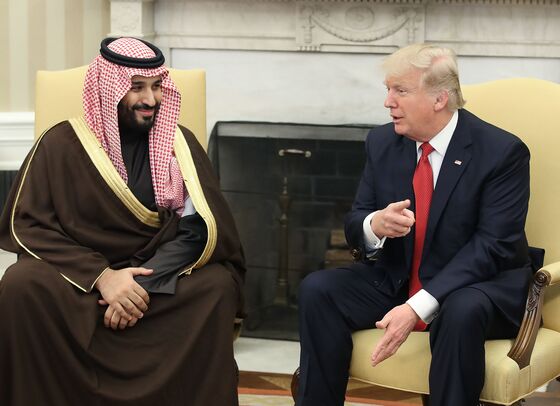 It wasn't supposed to be this way. When he traveled to London in March, there were pictures of him in different city locations with the slogan "He is bringing change to Saudi Arabia." He met Queen Elizabeth II and investment deals worth $2.1 billion were signed. Boris Johnson, who was then U.K. foreign secretary, said the prince had "demonstrated by word and deed that he aims to guide Saudi Arabia in a more open direction."
The prince flew to the U.S. later that month and was greeted like a star. The leader nicknamed "MBS" rubbed shoulders with America's business elite and met in Los Angeles with some of the biggest names in entertainment.
Prince Mohammed "may see the Argentina visit as an opportunity at damage control, but it is unlikely to succeed," Kamran Bokhari, a Washington-based national security and foreign policy specialist with the University of Ottawa's Professional Development Institute. "It could have the opposite effect if he tries to answer questions from the press. The more he tries to explain himself the more it makes him look bad."