Saudi Aramco Earnings Surge on Higher Oil Output and Prices
(Bloomberg) -- Saudi Aramco's shares rose to a record after the oil giant's earnings more than doubled from a year ago.
Third-quarter net profit climbed to 114 billion riyals ($30.4 billion), beating analysts' estimates slightly, as crude prices and the company's production increased. Free cash flow was $28.7 billion, easily covering the quarterly dividend of $18.8 billion.
Aramco and its Big Oil rivals have benefited from the global economic recovery, which has helped push crude up by more than 60% this year to around $83 a barrel.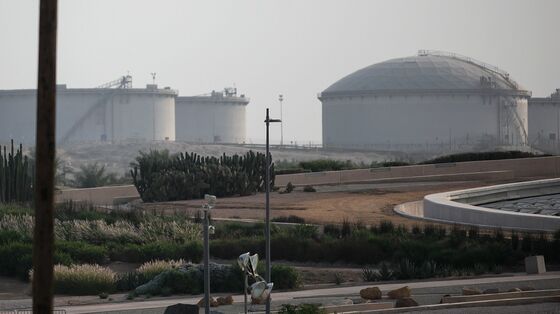 Income was also lifted by higher oil output as Saudi Arabia ended unilateral supply cuts implemented earlier this year as part of an OPEC+ deal. The kingdom's crude production averaged 9.6 million barrels a day between July and September, up from 8.5 million in the second quarter.
"Some headwinds still exist for the global economy, partly due to supply chain bottlenecks, but we are optimistic that energy demand will remain healthy for the foreseeable future," Chief Executive Officer Amin Nasser said in a statement on Sunday.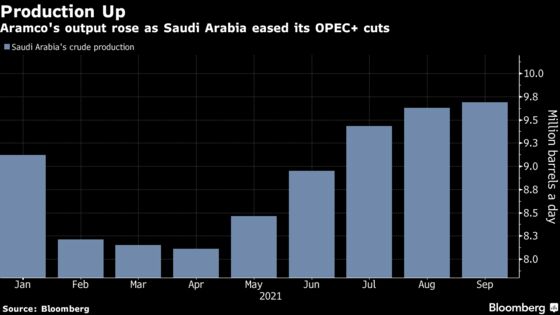 Last year, Aramco was struggling to fund its dividend after energy prices tanked with the spread of the coronavirus. The world's biggest oil firm made net income of just $12 billion in the third quarter of 2020.
On Sunday, Aramco's shares rose as much as 1.5% to a record 38.30 riyals, before paring gains to 37.90 riyals. They have increased 8.3% this year, taking the firm's market value above $2 trillion.
The company will release more detail financial statements on Monday, including for its upstream and downstream units.
Aramco's annual dividend of $75 billion, the world's largest, is a crucial source of funding for Saudi Arabia. The government, which owns 98% of the company, is trying to narrow a budget deficit that ballooned last year with the energy-price crash.
Yet, even with crude prices surging, Aramco has eschewed calls from some analysts to pay out more cash to shareholders. Instead, the company has used its cash to reduce gearing, which has fallen to 17.2% from 23% at the end of 2020.
Aramco is also sticking with its plans to spend about $35 billion on capital expenditure this year. Part of that will go toward boosting oil-production capacity to 13 million barrels a day from 12 million -- a project meant to be completed in 2027.