Saudi, Russian Energy Ministers Cancel Planned Davos Meeting
Saudi Arabia and Russia will no longer hold oil talks in Davos this week, scrapping the first face-to-face meeting since both nations agreed in December to cut output.
Russian Energy Minister Alexander Novak won't attend the World Economic Forum in Switzerland because of changes to his schedule, the ministry said in a statement on Tuesday. Earlier in the day, people with knowledge of his plans said Khalid Al-Falih, Saudi Arabia's top energy official, was also unlikely to visit.
They were only the latest of a batch of high-ranking government officials to skip the biggest event in the global business calendar, although executives from the world's largest companies were still out in force at the alpine resort.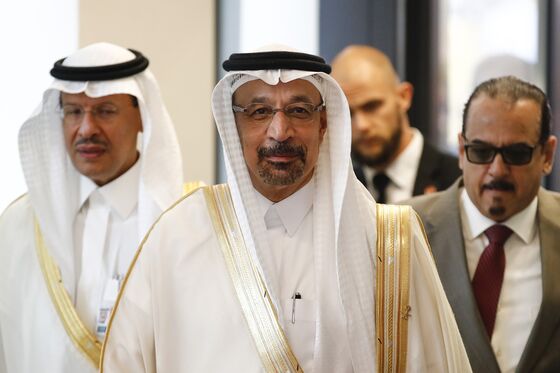 The Davos forum was set to host talks between Al-Falih and Novak, their first face-to-face meeting since they orchestrated a new production-cuts agreement between the Organization of Petroleum Exporting Countries and its allies. They had planned to discuss progress on the deal's implementation, Novak said last Thursday, shortly after Al-Falih criticized the pace of Russian production cuts.
The Saudi minister's travel plans are still in flux, so it's still possible, albeit unlikely, he makes a flying visit to Davos on Friday, the people said, asking not to be identified because his schedule is private.
Saudi Arabia has used the forum in recent years to pitch for foreign investment. State oil producer Aramco, which Al-Falih chairs, holds an annual reception at Davos. The company's Chief Executive Officer Amin Nasser attended the forum on Tuesday as he looks to drum up investor support for the producer's first major international bond issue later this year.
A number of world leaders have already decided to skip Davos this year. U.S. President Donald Trump called off his attendance earlier this month due to the government shutdown and canceled the trip of the entire U.S. delegation. High-ranking U.S. officials were expected to hold negotiations with China ahead of a 90-day cease-fire in their trade war.
Among the global leaders that also canceled their visit to this year's forum are U.K. Prime Minister Theresa May and France's President Emmanuel Macron. Davos will still host Japanese Prime Minister Shinzo Abe, German Chancellor Angela Merkel and Brazil's President Jair Bolsonaro.