Saudi Arabia Won't Erase Budget Deficit by 2024, Says Goldman
(Bloomberg) -- Saudi Arabia's budget deficit will narrow into 2024 but the kingdom is unlikely to balance its books by then as the government forecasts, according to Goldman Sachs Group Inc.
"In the medium term, we are cautious regarding the prospects for significant cuts to public spending, and see a gradual narrowing of the budget deficit to around 4.1% of gross domestic product in 2024," Farouk Soussa, a London-based economist at Goldman, wrote in a report. "The government, meanwhile, projects a balanced budget in this time frame, suggesting upside risks to our more conservative forecasts."
The double shock of lower oil prices and the economic fallout of the Covid-19 pandemic sent the kingdom's deficit into double digits in 2020. Goldman sees this year's shortfall narrowing significantly to 6.4% of GDP but remaining wider than the government's 4.9% target.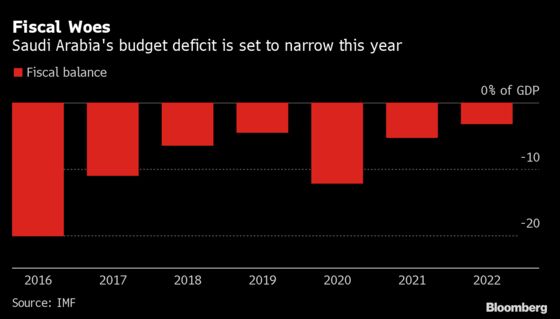 In its annual budget announcement, Saudi Arabia said it would cut spending 7.3% in 2021 to 990 billion riyals ($264 billion), while revenue is expected to rise to 849 billion riyals. Goldman's own projection for Saudi revenue is slightly higher at 880 billion riyals, as the bank's oil price assumption for the year stands at $53 a barrel.
The government's borrowing requirement is expected to be around $65 billion in 2021
The debt burden is expected to keep rising, though only gradually, with domestic issuance seen steadily increasing in the medium term and external issuance floating around $10 billion-$13 billion annually
Non-oil revenue is seen rising on the tripling of value-added tax and a recovery in domestic production
Expenditure is seen flat in contrast to the government's estimate of a 7.3% cut