Sasol Leans on Fuels Unit as Chemicals Plant Yet to Start Up
(Bloomberg) -- Sasol Ltd.'s liquid-fuels business outperformed chemical divisions in the fiscal first half, helping to buoy earnings as investors await the delayed startup of a giant U.S. ethylene plant.
Sales of oil and liquid fuels rose 37 percent in the six months to Dec. 31 from a year earlier, outpacing gains for both base and performance chemicals, the South African company said Monday. It's a healthy result for a business unit that'll shrink in importance once the multibillion-dollar Lake Charles Chemicals Project in Louisiana is finally up and running.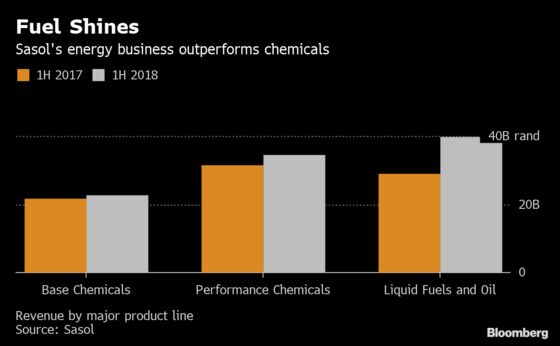 "While the Lake Charles Chemicals Project fundamentals remain firmly intact, we acknowledge the disappointing cost and schedule overrun," Chief Executive Officer Stephen Cornell said in a statement. "The project was impacted by several challenges, within and beyond our control."
Sasol said earlier this month that capital costs at Lake Charles had increased to as much as $11.8 billion and the startup would be delayed by as many as five months. Once fully operational, the so-called LCCP -- Sasol's largest project -- will transform the company's production mix.
"It is a defining year for us," Cornell said in an interview at Sasol's headquarters in Johannesburg. Revenue from the chemicals business will increase to about 70 percent of total sales once LCCP is fully online, he said.
Sasol will maintain its fuels business, with plans to acquire 15 new gas stations in South Africa, boosting its total to 411. Almost all the company's operations will continue to be linked to crude prices, which rose by 26 percent on average in the fiscal first half, lifting earnings per share by 32 percent to 23.25 rand ($1.66).
Sasol has been reviewing its refining business in South Africa as the country prepares to introduce cleaner-fuel standards. At its Natref refinery in Sasolburg and its Secunda plant south of Johannesburg, the company plans to spend as much as 14 billion rand to meet the new requirements, spokesman Alex Anderson said Monday.
Oil prices remain 40 percent below their level in mid-2014, and subdued market forecasts have prompted Sasol to scale back ambitions for its Pande natural-gas resources in Mozambique.
"The remaining uncertainty, coupled with a lower-for-longer forecast in the oil price, suggest a revised development concept maximizing the use of existing wells and processing facilities," the company said in the statement.