Sarepta Gains as Gene Therapy Shows Promise in Early Study
(Bloomberg) -- Sarepta Therapeutics Inc.'s experimental gene therapy for a type of muscular dystrophy benefited patients in an early-stage study, sending shares to the highest level since early October.
The drugmaker's trial of MYO-101 showed a benefit for patients with a lesser known, severe form of dystrophy that primarily affects shoulders and hips, across a trio of measures though a pair of patient side effects drew some questions from investors. The three patients in the study saw improvements as tests of the expression of muscle fibers topped most Wall Street expectations.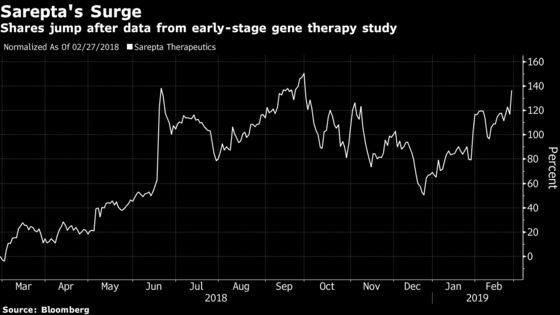 "The results are a validation that we have the right approach to bring a better life to patients affected by these rare diseases," Chief Executive Officer Doug Ingram said in a telephone interview. He also noted that the company has 25 genetic medicines in its pipeline, with 10 of those being gene therapies.
Shares jumped as much as 10 percent in early trading to touch $153 at 9:31 a.m. in New York, the highest intraday level since October 1. The stock remains up more than 125 percent in the last year compared to a more meager 2.7 percent climb for the Nasdaq Biotechnology Index.
The study results for the three patients in the early-stage trial saw an average reduction in the enzyme that the muscle releases when it's being damaged, known as CK, of 90 percent. That surpassed sell-side hopes for more than 50 percent. The results also showed a muscle expression at 36 percent of normal, topping expectations for 20 percent expression or more.
Sarepta noted in a slideshow that two patients suffered from elevated liver enzymes with one patient's side effects being described as serious. The presence of elevated liver enzymes can indicate inflammation or damage to the cells in the liver, though both patients' enzymes returned to normal after the application of supplemental steroids. Management quickly brushed aside concerns for the side effects, highlighting that elevated liver enzymes are somewhat typical in gene therapy studies.
The heightened enzyme levels "correlate with reductions in steroids and they quickly resolve where steroids are re-initiated," Ingram said. "It does appear to be a sort of transient issue that's well managed with the use of steroids."
Some on the Street including Cantor Fitzgerald analyst Alethia Young had forecast upside between 12 and 17 percent for shares on successful data, with a moderately larger downside view between 15 and 19 percent if results were lackluster.
Sarepta's early-stage study of the single injection took place in patients affected with the most severe and most common forms of Limb-girdle muscular dystrophy, a disease that leads to progressive muscle fiber loss. The broader population of patients impacted by the disease ranges from 1 in 14,500 to 1 in 123,000 patients.
The company intends to meet with U.S. regulators to discuss the next steps for its five limb girdle programs, chief executive Doug Ingram said in a call to discuss the results.
The news comes just after announcing the drugmaker exercised an option to acquire closely held Myonexus Therapeutics, the company that developed the gene therapy, for $165 million. Sarepta is also slated to report its fourth-quarter results after the market close Wednesday. Analysts on average estimate the company's Duchenne muscular dystrophy drug, Exondys 51, took in about $85 million during the quarter, according to data compiled by Bloomberg.
The read-through that today's results have to other programs made it a "compelling time" for Sarepta to take control of Myonexus, as well as its assets, to advance the medicines as quickly as possible, Ingram said.
Sarepta's gene therapy portfolio has been deemed among leaders in the space with a notable head start in the race to bring a new DMD gene therapy to patients. That pipeline has thrust the company to the forefront of viable candidates on Wall Street lists of strategic targets after a recent increase in biotech deals.