Sarepta's Gene Therapy for Rare Muscle Disease Impresses Wall Street in Early Study
(Bloomberg) -- Sarepta Therapeutics Inc. impressed Wall Street yet again with its updated early-stage data for its Duchenne muscular dystrophy gene therapy. Analysts broadly applauded the results and viewed the presentation as a validation of the potential blockbuster program. Shares of the biotech have been volatile in early trading and are up as much as 2.9 percent at 10:01 a.m. in New York after falling as much as 3.6 percent.
Sarepta presented data that showed benefits for the four young boys in the study including key clinical measures like tests of how far patients could walk after treatment. The fresh update is likely to further impress investors who gave the company a standing ovation and pushed shares to a record after the last trial update in June.
Cowen applauded the "stellar" results, noting key aspects were strong and safety continued to be clean. RBC wrote that the data are strong enough to help shares bounce back from a recent slide and climb towards levels that show the revenue opportunity. Options traders piled on their bets leading up to Wednesday evening's presentation with the October 5th at-the-money straddle predicting a double-digit move.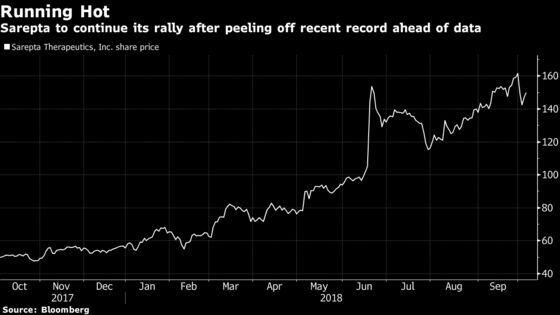 Here's what Wall Street is saying about the results:
RBC Capital, Brian Abrahams
"We believe that updated data from 4th DMD pt and first 3 previously reported pts, presented at the WMS meeting this evening, top high Street expectations, demonstrating expression across all patients, good durability via biomarkers, and encouraging translation into clinical/functional benefits."
The update "substantially validates the viability of this potential blockbuster program and its likelihood of contributing meaningfully significant" long-term EPS growth and should increase attention to the likelihood Sarepta's similar but under-the-radar program is successful.
"Data are strong enough to help shares bounce back from recent weakness and climb toward what we see as more appropriate levels given the revenue opportunity."
Reiterates outperform rating, price target $200.
Sarepta presented "very strong functional data" from the "stellar" Phase 1/2 DMD gene therapy trial.
Highlighted that "all key biomarkers were concordantly strong and safety continued to be clean" which bodes well for the program's approvability.
Noted the trends in improved function in all patients treated so far with the consistency of the functional data being surprising. Said patient videos were "borderline alarmingly impressive."
Maintains outperform rating, $178 price target.
Goldman Sachs, Salveen Richter
Views "the intact safety profile, preclinical studies demonstrating >100% micro-dystrophin expression with no reported SAEs, uniform micro-dystrophin expression that is localized to the muscle and no known systemic SAEs (related to micro-dystrophin, a structural protein) as suggestive of a well-tolerated profile."
Recommends buying ahead of the year-end and early 2019 catalysts including FDA clarity on the larger registrational study and initiation and Phase 1/2 biopsy data of its Limb girdle gene therapy.
Reiterates buy, $203 price target.
"We continue to believe these updated micro-dystrophin data beat Street expectations going into the event" with shares expected to grind up into the ~$180-190/share range with time.
Calls the patient videos "game changing" and heeds that the stock's after-market slide was not a "sell the news" event given the "early functional improvement across efficacy parameters" has created a fundamental value.
Does not see a pressing need for cash near-term and "would argue that the efficacy parameters that were provided to date are largely consistent."
Remains overweight with $206 price target.
Continues "to believe that micro-dystrophin gene therapies are on track to offer significant benefit in DMD" after the data from the fourth patient showed support for the promise of gene therapy in the disease.
"Micro-dystrophin expression continues to be robust" with the fourth patient showing an even stronger response. Notes the variability between patient expression could give some investors pause though muscle function appears to be benefiting and clearly better than the only FDA-approved therapy.
"Sarepta Therapeutics' gene therapy shows robust improvement in functional endpoints, reinforcing the leapfrog this platform can offer in DMD."
Highlights the "substantial functional benefit" in the patients across tests and the continued safety that looks acceptable.
Expects "an update from Sarepta's meeting with the FDA regarding the development/regulatory path for the gene therapy program."
Rates market outperform, price target $270.