Santos Falls After Rejecting Harbour Offer as Too Low, Risky
(Bloomberg) -- Santos Ltd. plunged the most since 2016 after rejecting Harbour Energy Ltd.'s $10.9 billion final offer and terminating talks, saying its proposal was too low and too risky.
The Australian oil and gas producer said Tuesday its independent directors, managing director and chief executive officer unanimously rejected the proposal because it didn't represent the full value of the company, as well as being too complex and high-risk. Oil prices and shares of its domestic peers have rallied 14 percent and 18 percent, respectively, since the initial proposal, Santos said.
"The board obviously thinks that in their hands there is more to come than what Harbour is offering," David Lennox, a Sydney-based resources analyst with Fat Prophets said by phone. "The other reasoning is that the company is pretty sound, it has lowered its cost structures, it has increased its cash flows."
Santos shares declined 8.4 percent to close at A$5.90 in Sydney, retreating from the highest settlement in almost three years. The benchmark S&P/ASX 200 fell 0.2 percent.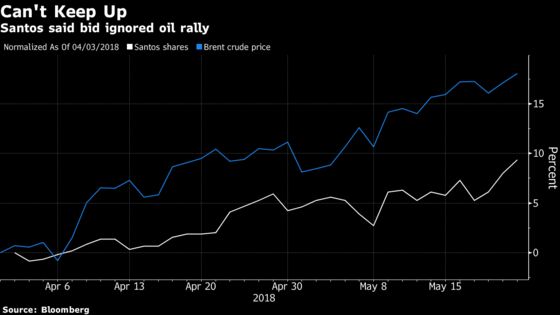 Harbour said in a statement it was disappointed with the decision, and criticized Santos and its board for insufficient engagement on valuation. Santos has "limited growth opportunities" and long-dated growth options will require very large capital investment, according to the statement.
In rejecting the second takeover offer since November from U.S.-based Harbour, Santos said its board believed it's better off sticking to the restructuring strategy launched in 2016 by Chief Executive Officer Kevin Gallagher, aimed at slashing net debt to $2 billion by next year. The Adelaide-based company said Tuesday it's more than a year ahead of schedule, at current oil prices.
"The onus is now firmly on the board and executive to execute strategy, grow the company and hope that oil, gas and LNG prices do not retreat materially," Ben Wilson, a Sydney-based analyst at the Royal Bank of Canada, wrote in a note to clients.
Harbour earlier this week improved its bid by 4.6 percent and indicated it could be raised further if Santos expanded its oil-hedging program, the Australian company said in a statement Monday. At $5.21 per share, or the equivalent of A$6.86, the offer was at a 6.5 percent premium to Tuesday's close, the highest since July 2015.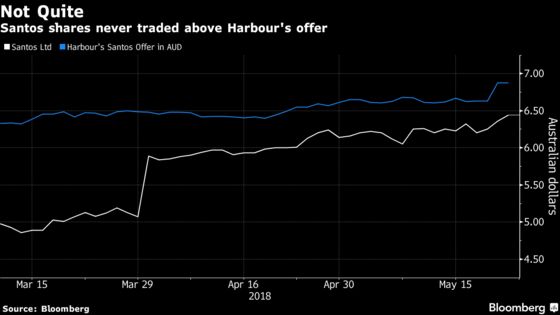 Harbour's final proposal "does not represent a full value of the company and, when combined with the associated risks, is not in the best interests" of shareholders, Santos said Tuesday.
Santos also said the proposal was highly leveraged and would have required it to support Harbour's debt raising, as well as hedge a "significant proportion" of oil-linked production. The bid in U.S. dollars would also leave shareholders vulnerable to currency fluctuations and was subject to several conditions, including foreign-investment approval, it said.
Santos also criticized the deal as being unequal for shareholders, with only the biggest being offered an opportunity to remain invested and benefit from a potential turnaround. Harbour said its offer had the support of ENN Group and Hony Capital, the Chinese partners that have a combined 15.1 percent of Santos.
The revised offer was conditional on Santos undertaking additional hedging of oil-linked production in 2018 of about 30 percent and changes to hedging in 2019, according to the statement from Santos. Harbour could have increased the offer to $5.25 per share if Santos agrees to hedge 30 percent of oil-linked production in 2020, according to statements earlier this week from both companies. Typically, producers use hedging programs to lock in future sales through derivatives linked to the price of oil.
Harbour Chief Executive Officer Linda Cook, a former Royal Dutch Shell Plc executive, had said she would seek to expand Australia's third-largest energy producer in Asia and Africa. She would also look to grow its gas assets in South Australia's Cooper Basin and the ConocoPhillips-operated Darwin LNG plant in the Northern Territory, as well as in Papua New Guinea.