Santander to Take $1.7 Billion Charge on Troubled U.K. Unit
(Bloomberg) -- Banco Santander SA will take a 1.5 billion-euro ($1.7 billion) charge over its U.K. business, which has struggled to boost profit amid stricter regulations and a competitive mortgage market.
The impairment will be included in third-quarter results, the Spanish lender said on Tuesday. It won't affect the bank's cash flow or tier 1 capital ratio, a key measure of financial strength. Santander also announced a dividend payment of 10 euro cents a share in cash, unchanged from its second-half payout last year.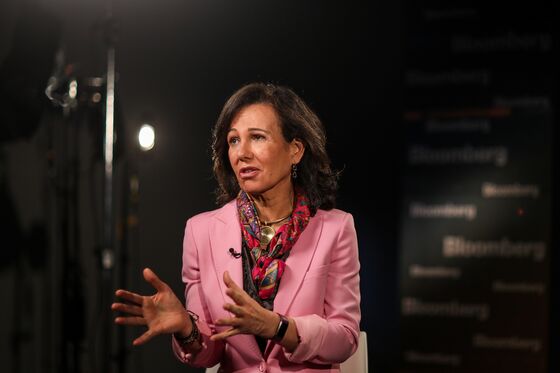 Santander UK, the lender's fourth-largest unit, is facing increased competition in its key mortgage market and "ring-fencing" rules that force banks to separate their retail and investment banking operations. Weakness across the bank's European businesses is increasing the Spanish lender's dependence on the strong but potentially volatile Latin American market, where it has large businesses in Mexico and Brazil.
Profit at the U.K. business fell 13% in the second quarter from a year earlier on reduced income from lending and fees.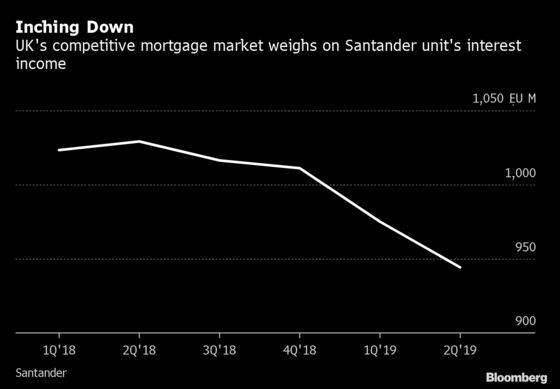 Ring-fencing, designed to protect retail deposits from risky investment banking, has had unintended side effects. The regulation has sealed away capital in units where mortgages are one of the few avenues for growth, encouraging giants such as HSBC Holdings Plc to wade into a market it had long neglected.
Santander fell as much as 2.5% in Madrid trading and was down 1.6% at 3.57 euros as of 12:17 p.m. The stock has fallen 10.2% this year compared with a 3.4% decline for the STOXX Europe 600 banking index. The benchmark was 16% lower on Wednesday.
What Bloomberg Intelligence Says


"With no CET1 impact, the charge reflects structurally lower profitability in the U.K. post ring-fencing. Future writedowns shouldn't be ruled out, we believe, given Brexit risks and intense competition."

-- Jonathan Tyce, BI banking analyst
Click here to view the research
Like most U.K. lenders, Santander was hit by costs to pay refunds to customers who were mis-sold payment-protection insurance. It reported a second-quarter charge of 108 million euros, in part from costs related to the shuttering of 140 U.K. branches.
While Latin America has helped Santander grow profits, the bank has been buffeted by issues including a potentially costly court battle with Andrea Orcel, the investment banker whose appointment as chief executive officer was unexpectedly canceled at the last minute.
The Spanish lender entered the U.K. market with the acquisition of building society Abbey National in 2004. It expanded with the purchases of Bradford & Bingley and Alliance & Leicester in 2008 and 2009 and named the unit Santander UK in 2010.
"While ring-fencing reforms and Brexit have impacted profitability in the U.K., it remains a critically important market, in which the group is investing significantly to service our customers and to continue to compete," Chairman
Ana Botin said in the statement.
The decision to pay the dividend in cash means that the company hasn't returned to offering part of the payout in shares, as it suggested it might do earlier this year.