Santander's Resilient Earnings Help Counter Hit From Charges
(Bloomberg) -- Banco Santander SA reported better-than-expected underlying income and revenue from lending, helping investors look past a 1.15 billion-euro ($1.4 billion) charge for job cuts and branch closures.
Profit excluding the charge rose to 1.4 billion euros in the fourth quarter, while the capital buffer climbed above 12% for the first time, Spain's biggest bank said in a statement on Tuesday. Provisions for loan losses were also lower than expected.
Chairman Ana Botin last year described the first half of 2020 as one of the most challenging periods in Santander's history, as the pandemic exposed weaknesses in its global businesses. The bank in December reached an agreement with unions to cut almost thousands of jobs and close more than 1,000 branches in Spain, its second consecutive year of deep staff reductions.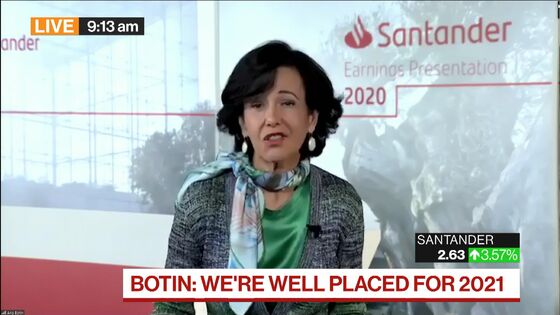 Santander rose as much as 5.1% in Madrid on a positive trading day for banks across Europe. The stock was up 1.2% as of 11:35 a.m.
"Our underlying business performed solidly," Botin said in a Bloomberg TV interview. "Yes, it's been a challenging year, but we have delivered solid results and we are well-placed for 2021."
Santander said it would pay a dividend of 2.75 cents per share on 2020 earnings, less than the 10 cents approved by shareholders after the European Central Bank put a cap on shareholder returns. That meant that the bank accrued more capital than expected in the quarter.
The bank plans to pay the entire dividend in cash on earnings for this year, to be distributed either in the fourth quarter or the first quarter of 2022, if the ECB allows it, Botin said on a conference call. At the same time, she warned that Santander may get penalized when the European Banking Authority conducts its next round of stress tests due to its exposure to emerging markets.
Santander expects mid-single-digit revenue growth in the medium term and a return on tangible equity of 9% to 10% this year. It plans to return to a policy of cash dividends equal to 40%-50% of underlying profit, resuming payments on 2021 earnings once the European Central Bank lifts its limitations on payouts.
Santander suffered the first loss in its 163-year history in the second quarter after reporting a 12.6 billion-euro writedown on assets in the U.K. and U.S. to reflect the worsening economic outlook. That helped drive the bank to a full-year loss of 8.77 billion euros, slightly higher than estimated.
Net interest income rose to 8.02 billion euros, beating estimates, as the bank said it generated as much revenue from lending and fees last year as it did in 2019.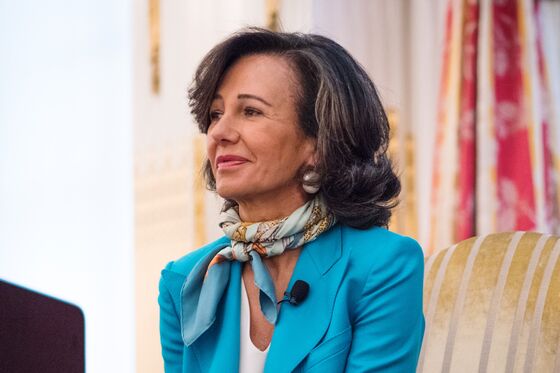 European banks like Santander that rely mainly on lending income are under pressure as the pandemic makes it harder for their clients to repay loans and prompts central banks to extend ultra-low interest rates that have already eroded profit margins for years.
The group's regional earnings were once again a mixed bag, with revenue from the Americas compensating for weaker growth in Europe, especially Spain. While core revenue rose in Santander's home market, the bank took a 611 million-euro hit on provisions for loan losses, its highest since the first quarter, driving underlying profit down to 20 million euros.
Brazil was one the key drivers for the group as lower provisions and stable core revenue resulted in better-than-expected profit of 568 million euros for the quarter. The U.S. unit posted its strongest quarter in 18 months, with underlying profit up 190% from a year earlier due mainly to lower provisions.
The investment bank was another driver of growth, with earnings up 23% during over the year thanks to its corporate finance advisory in equity capital markets.
Net interest income EU8b

vs

est. EU7.7b
Bad loan ratio down 11 basis points to 3.21%
CET1 ratio (pro-forma): up 36 basis points to 12.34%; fully-loaded was 11.89%
4Q net loss EU277m

vs

est. EU381m
Provisions for loan losses EU2.8b, lower than estimated