Santander's Botin Keeps Calm as Brazil's Divisive Election Looms
(Bloomberg) -- Banco Santander SA Chairman Ana Botin, a three-decade Brazil watcher, is staying bullish on the country even as divisive elections threaten Latin America's largest economy.
The bank's Brazilian unit will probably deliver a return on equity of close to 20 percent this year, Botin said in a Bloomberg Television interview on Tuesday. Even during the last recession, ROE -- as the profitability measure is known -- was close to 14 percent in the country, she said. That's higher than almost every bank in the Bloomberg Europe Banks and Financial Services Index.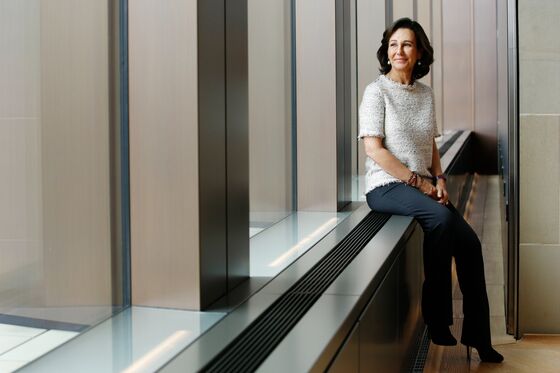 Brazilians are divided in the run-up to an Oct. 7 election that will select two presidential candidates. The most likely to make it through to the final round are a far-right former Army captain with a benign view of dictatorship and a leftist from the party that drove the economy off the cliff. Some business leaders fear that polarization between left and right could jeopardize meaningful pension reform, and it's already forced some companies to put financial plans on hold.
"I've huge faith in a country I have known for 30 years," Botin said. "Elections, yes, will be important, but they will determine the pace of development, not the direction. The election on Sunday is not the end or the beginning for Brazil. I see it as a normalization of politics."
At stake in Brazil are almost a trillion dollars in public debt, the output of one of the world's main food baskets and a massive market for multinational companies. The size of that internal market, its strong private sector and the strength of the country's institutions are buoying Botin's optimism even as some analysts see a risk to its democracy.
Brazil and Mexico account for about a third of Santander's net income, approximately the same as Spain, Portugal and Santander's consumer business in the euro-area countries. Total lending in the two Latin American countries, though, is less than a third of that, Botin said, demonstrating the potential for growth in the region.
Not everyone is buying Botin's optimism: KBW analyst Daragh Quinn cut his rating on the stock to market perform from outperform, saying uncertainty surrounding Brazil's election this month is the worst since 2002.
Santander was down 0.6 percent at 4.26 euros at 5:15 p.m. in Madrid. The shares dropped as much as 2.3 percent.
Botin, 57, last week surprised analysts and investors by hiring UBS Group AG investment banking head Andrea Orcel to become Santander's new chief executive officer. The appointment prompted speculation that the bank may signal a shift in strategy -- including more M&A -- when it announces a new business plan in early 2019. The investment banker's relationship with Santander stretches back to two decades, when he was a confidante and deal maker for late Chairman Emilio Botin.
Under Ana Botin, who took over from her father as executive chairman, Santander has shied away from large-scale deals to focus on strengthening the balance sheet after Spain's financial crash. Orcel's appointment is fueling speculation that Botin may pivot back to her father's ways or look to expand Santander's investment banking capabilities as economic growth emboldens Spain's banks.
Botin said that she hired Orcel because his skills complement those of current CEO Jose Antonio Alvarez, who will move to become vice chairman of the group and head of the bank's Spanish unit.
"The experience he brings is really managing in a horizontal way and putting in place a strategy that we agreed the last few years," Botin said. "He is very, very good at managing across cultures and, very importantly, he has a proven track record."