Santander Boost May Help Orcel Chose Between Dividends and Deals
(Bloomberg) -- Banco Santander SA is getting the house in order before Andrea Orcel takes over.
Spain's biggest lender, which has long had one of the lowest core capital levels among peers, on Wednesday surprised investors with an increase in a key measure of financial strength and earnings that topped the highest estimate. Stronger capital makes the bank less susceptible to external shocks and may give it strategic flexibility down the road to return more cash to shareholders or pursue deals. The shares rose the most in five months.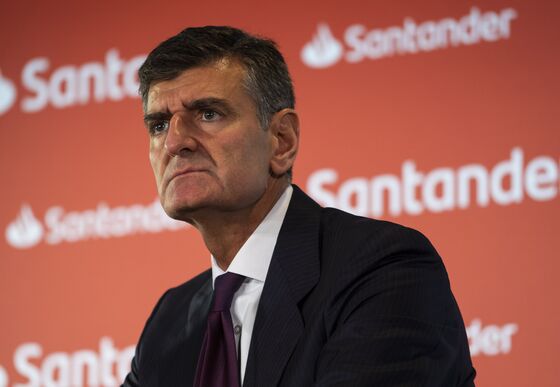 "We believe that current conditions recommend having higher capital," Chief Financial Officer Jose Antonio Garcia Cantera said in an interview. "We've been raising dividends for the past few years but at the same time we've been able to build capital and both are completely compatible."
Chairman Ana Botin, who cut the dividend her father Emilio had put in place when she took over in 2014, has said the bank can afford weaker capital because it's focused on lending, rather than the more volatile business of investment banking. But last month's surprise appointment of Orcel, UBS Group AG's hard-charging investment bank head and a former confidante and dealmaker for Botin's late father Emilio, prompted speculation that Santander may shift strategy and pursue more takeovers.
Botin has downplayed such suggestions, though she said earlier this year that building capital levels opens up options for the Spanish lender. The bank can either continue profitable growth "or we can increase our dividend," Botin said in January.
Santander rose 3.1 percent at noon in Madrid, reducing losses this year to 23 percent. The shares gained as much as 4.3 percent earlier in the day.
Banks across Europe have seen their market value slump in 2018 as turmoil in Turkey, Italy's budget deficit and Britain's exit from the European Union fuel concerns that the economy may slow and lenders could be left with mountains of bad debts and writedowns.
The boost to Santander's common equity tier 1 capital ratio -- by 31 basis points to 11.11 percent -- alleviates some of those concerns before new stress test results for European banks are due to be published on Friday. But the measure is still low compared with the 14.1 percent average for peers. Under new reporting standards, Santander's metric stood at 10.93 percent, according to Morgan Stanley analysts. The bank is targeting 11 percent this year.
"They're still quite a bit below the European sector average in terms of common equity Tier 1 ratio," said Neil Smith, an analyst at Bankhaus Lampe in Dusseldorf. "I don't buy the idea that Santander is safe because it's a retail bank."
Santander's earnings have benefited from a geographic diversification engineered by Emilio Botin that makes it less dependent on any one region. In the third quarter, a strong performance in its home market offset weakness in Brazil, the bank's single biggest source of profit and a cash cow in prior quarters.
Profit in Spain almost tripled from a year ago, helped by income from bond trading, fees, and as a charge a year earlier wasn't repeated. That mirrors a strong performance at home by local rival Banco Bilbao Vizcaya Argentaria SA, which reported earnings Tuesday.
In Brazil, the real's depreciation cut into earnings. The election of Jair Bolsonaro has raised hopes he'll implement reforms that will boost Santander's largest market, and the real has recently pared losses. Brazil's benchmark index has climbed to near an all-time high on investor optimism that Bolsonaro will implement business-friendly policies after a decisive election victory last Sunday.
Wednesday's results give "them some leeway for improved shareholder renumeration," said Carlos Peixoto, an analyst at Banco BPI in Porto, Portugal.
Here are some highlights from Santander's third-quarter report:
Spanish profit rose to 526 million euros, driven by gains in bond trading, lower costs. Last year, the unit was hit by a 300 million euro charge for the acquisition of Banco Popular Espanol SA.
Net income in Brazil, which contributes about a quarter of group profits, fell 6 percent to 619 million euros.
U.K. profit grew on a yearly basis for the first time this year, increasing by 2 percent to 385 million euros.
The bank's fully-loaded CET1 ratio grew by 31 basis points to 11.11 percent.