Santander Slips as It Sees Capital Pressure From Regulations
(Bloomberg) -- Banco Santander SA declined in Madrid trading after the Spanish bank indicated that its capital levels will come under pressure from regulation.
Rule changes have had a particularly heavy impact on the bank's 2019 performance, with more limited negative effects to come in 2020, Chief Executive Officer Jose Antonio Alvarez said on a call following the bank's third-quarter results. The stock was down 4.3% after an ex-dividend adjustment as of 1:23 p.m., extending losses from earlier.
Santander UK, the group's third-largest unit, has been particularly hard hit by regulations that force banks to separate retail and investment-banking operations, which inadvertently created more competition in the country's mortgage market. While charges at the business contributed to a plunge in group net income, the bank's thriving Latin American units helped contribute to an overall gain in underlying income.
Underlying earnings in South America grew by 36% in the third quarter, led by Brazil. That helped the measure by 7% at a group level even as the measure in Europe overall contracted. Net income fell by 75% to 501 million euros ($557 million), beating analyst estimates.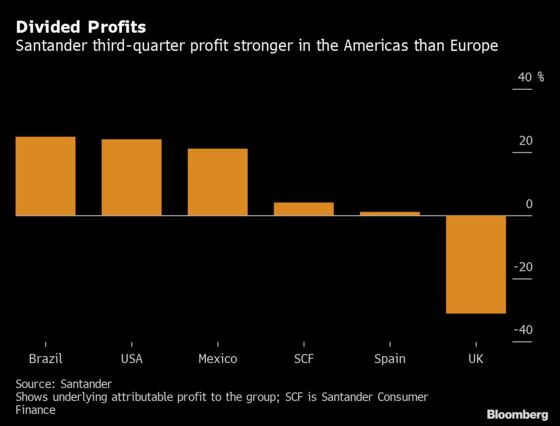 Alvarez said regulations are expected to shave 20 to 30 basis points off of the capital ratio from now until the end of 2020. The bank expects a negative impact of as much as 100 basis points from so-called Basil IV requirements from 2023 to 2028, CFO Cantera said. The bank, which has faced criticism for having capital levels that are lower than peers, has a medium-term target CET1 ratio target of 11% to 12%.
"It wouldn't make sense to keep capital levels above 12%," Cantera said in the earnings call. "I would expect capital levels in Europe to move to around 11% to 11.5% and converge with U.S. banks."
Santander's struggles in the U.K. have had a direct impact on its core revenue, with interest and fee income, both falling for four consecutive quarters before this latest period. The bank is looking to cut costs by closing 140 branches and laying off about 800 staff in the U.K.
Santander doesn't currently see a need for further adjustments to its U.K. business, where the benefits from cost reductions are beginning to show, Cantera said in a Bloomberg TV interview earlier. While Brexit may play the part in its struggles in the country, the main impact comes from regulatory changes, he said.
The lender said it made a further provision of 103 million euros related to costs incurred in the payment protection insurance scandal, or PPI. U.K. banks have paid billions of pounds settling claims for mis-selling payment protection insurance to their customers. Some saw extra large charges in the last quarter as the government-imposed compensation program winds down.
Santander's Latin American units have long helped the bank weather lackluster economies in Europe. Brazil and Mexico together contributed 37% of the lender's underlying product in the first 9 months of the year. Cantera says he sees a "great opportunity" in the U.S., where its banking and auto financing businesses are performing well.
"Our diversification across Europe and the Americas is one of the defining characteristics that stands Santander apart from our peers," Chairman Ana Botin said in the statement. "We have achieved the strongest underlying performance in almost a decade this quarter."
The bank's consumer finance unit, which accounted for about 13% of profit over the first nine months, reported underlying income of 995 million euros, little changed from a year ago.
Here are some highlights from Santander's third-quarter report:
Net income in Brazil grew 25% from a year earlier in Brazil, Mexico up 21%
Brazil and Mexico together accounted for 37% of 9m underlying profit
Net income beat estimates of 457 million euros
Underlying profit was down 31% in U.K., up 1% in Spain, with core revenue falling 7% in Spain and net interested income in the U.K. falling for a fifth consecutive quarter
3Q underlying profit of 2.1 billion euros was the strongest in nearly a decade
CET1 ratio was flat at 11.3%; fully-loaded CET1 ratio, that includes impact of IFRS9, was 11.07%
Group net interest income of 8.8 billion euros in the third quarter was in line with estimates