Santander CoCos Rebound as Investors Swallow Call Letdown
(Bloomberg) -- Banco Santander SA contingent-convertible bonds bounced back as investors digested a surprise decision to skip a call option.
The bank's 6.25 percent euro Additional Tier 1 notes rose more than 0.5 cents on the euro to about 98 cents, after tumbling late Tuesday in the wake of Santander's decision to not use a March redemption option. Dollar AT1s, callable in May, gained almost a cent in U.S. trading after initially selling off. The bank's shares were little changed in Madrid.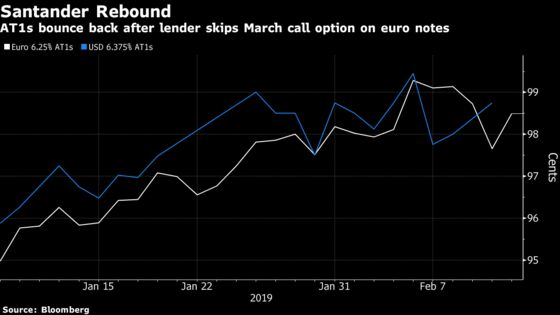 The rebound may reflect investors shifting focus to CoCos' large yields and Santander's capital position rather than the upending of market expectations that banks will call perpetual bonds at the first opportunity. Investors may also see little wider market impact from Santander's decision due to pricing difference between banks' CoCos and the fact that the Spanish bank wasn't reacting to any company or market stresses.
"The decision was theirs and not the regulator's," said Robert Montague, a senior financials analyst at ECM Asset Management in London. "If it had been the latter, then it would have had a wider read-across for the market."
Skipping the call means the coupon on Santander's 1.5 billion euros of AT1s will reset to a variable rate next month. The overall cost works out at about 5.53 percent, as the new rate is 541 basis points above the five-year euro swap rate, which is currently 12.5 basis points. By comparison, the lender's 5.25 percent CoCo callable in 2023 trades at a spread of about 628 basis points.
READ MORE: Santander Dollar Notes, U.K. Bonds Lead CoCos Nearing First Call
Whether other banks will follow Santander may be hard to judge because AT1s come in different currencies and have different extension margins. It will also be weeks before the next AT1s reach first call dates, starting with Santander's dollar notes in May, and then Nationwide Building Society and Lloyds Banking Group Plc sterling notes in June. Two other banks -- Banco Bilbao Vizcaya Argentaria SA and KBC Group NV -- have also already called euro AT1s this year.
"We don't expect all the issuers to act alike," Suvi Platerink Kosonen, a credit analyst at ING Groep NV in Amsterdam, said in a note. "We would expect a non-call to be a highly company- and also bond-specific decision."
Still, the Santander decision may make non-calls more common, the analyst said.
The Spanish bank said it would skip the call late Tuesday -- the deadline day for a decision -- after keeping investors in the dark for weeks regarding the March 12 call option. A dollar AT1 sale by the lender last week also stoked expectations that the euro notes would be redeemed.
Santander decided against a call due to an "obligation to assess the economics and balance the interests of all investors," a company spokesman said in an email. "We will continue to monitor the market closely and will seek to exercise call options where we believe it is right to do so," he said. The bank can call the euro AT1s in June and then every three months after that.
Reaction to Santander's extension is probably divided between investors focused on high-yield or investment-grade bonds, said Chris Brils, a portfolio manager at Actiam in Utrecht, which manages $65 billion. High-yield investors are probably more accustomed to companies making use of covenants or ignoring market conventions if it makes economic sense, he said
Some investment-grade investors "are now angry" because Santander breached a perceived market understanding, he said. "High-yield investors, however, who've done AT1s are much more relaxed."