Chicken Producers Soar as China Signals End of U.S. Ban
(Bloomberg) -- Shares of America chicken processors surged Monday after China said it's prepared to lift a ban on U.S. poultry that's been in place since 2015.
Tyson Foods Inc., Pilgrim's Pride Corp. and Sanderson Farms Inc. are all poised to benefit as China may seek to import more protein in the wake of a deadly pig disease that's wiped out a significant percentage of its hog herd. Chicken is the cheapest substitute for pork, which is the country's preferred protein.
"This could be a significant positive for the U.S. chicken industry given China's historical prominence as a chicken import partner, and because of the country's current need for additional protein imports in the wake of African swine fever-driven supply challenges," analysts at Stephens Inc., including Ben Bienvenu, said in a note Monday.
Sanderson Farms shares gained as much as 16%, the biggest intraday jump in more than a decade, while Pilgrim's Pride and Tyson rose as much as 8.3% and 5.1%, respectively.
African swine fever is spreading through Asia and may cut Chinese production by 60% by the end of this year, according to researcher Global AgriTrends. China produces and consumes about half of the world's pork, and the damage from the fever is widely expected to create a protein gap that suppliers won't be able to fill. Pork costs have skyrocketed in the country.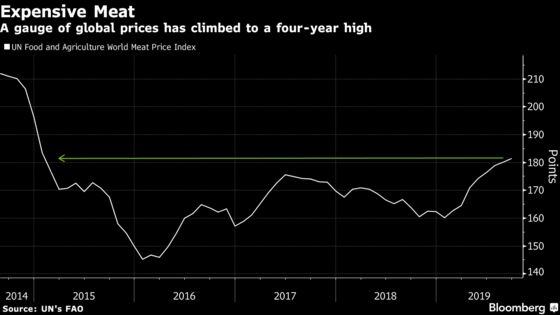 China is already importing more chicken from Brazil, the U.S.'s main competitor in poultry exports, including parts and whole chickens, Sanderson Farms Chief Executive Officer Joe Sanderson said Oct. 18 during an investor presentation.
In the event of access to China, the quantity of U.S. exports may not necessarily see significant increases, according to Global AgriTrends President Brett Stuart. China may just displace exports to smaller markets, which would push up prices, especially for chicken leg quarters.
"To see that leg quarter price get another bump, that would go right to the bottom line of U.S. producers," Stuart said, which would be "great news" for the industry.
Sanderson has "the most quantifiable benefit," according to the Stephens report, as it sold 74.9 million pounds (34,000 metric tons) of chicken for $62.1 million to China in fiscal year 2014, before the ban.
Rising American poultry shipments can help ease a U.S. protein glut. In the first nine months of 2019, U.S. chicken slaughter climbed 1.4% from a year earlier and animal weights also increased.