Bernie Sanders Surges Ahead of Iowa Caucuses Today
(Bloomberg) -- Elizabeth Warren, once riding high in crucial Iowa after months of pushing her detailed plans, has been usurped as the darling of the progressive left by a surging Bernie Sanders.
Warren spent the first six months of 2019 crisscrossing Iowa. By September, it seemed like her "I have a plan for that" pitch had resonated. Warren took the lead in the state, giving her credibility as a challenger to national front-runner Joe Biden.
But despite all the plans she released and all the hands she shook, by the time the voting was actually set to start, her support had flagged. In an Emerson poll of likely Democratic caucus-goers released Sunday, she ranked at 14%, half the 28% support enjoyed by Sanders, who Iowa observers are predicting to win the Iowa caucuses on Monday night.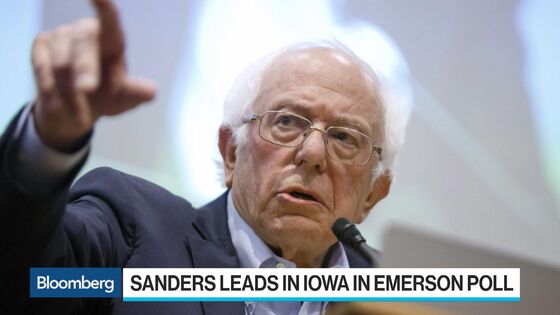 If Warren falters in Iowa as polls predict, it would be one of the most dramatic changes of fortune for any of the major candidates, right at the worst possible time, as Democratic voters nationwide really start to tune in. It's not clear how she would recover from a fourth-place finish. And it would suggest that Wall Street investors who have been worried about the prospect of a Warren presidency now have a fresh worry -- that of a Democratic ticket headed by self-declared democratic socialist Sanders.
The race has been fluid until the last minute, with Biden, Sanders, Warren and Pete Buttigieg each having a spot in the lead at different times in the last six months.
Monday's caucuses will determine an official winner in Iowa based on who ends the night with the most of the state's delegates 41 delegates to the Democratic national convention. That's a little more than 1% of the total, but the state holds outsized influence because it is the first to actually choose its preference for a nominee, giving candidates a chance to prove or lose their electability argument.
But the Iowa Democratic Party will also report the raw vote that determines the number of delegates that will also be used to claim victory -- meaning two or even three candidates could claim to be the "winner."
If Buttigieg or Amy Klobuchar end up with respectable performances, it will be considered a win for those long-shot candidates. If a presumed front-runner like Biden ends up with little support, it could be a devastating blow to his momentum for the primaries and caucuses ahead.
Warren's campaign insists that she will recover. It played down the importance of Iowa and the "breathless media narratives" that come once voting begins, in a memo released Jan. 24. Campaign manager Roger Lau said, Warren has built a strong enough organization to stay in the race past Super Tuesday on March 3. He said Warren had more than 1,000 organizers in 31 states across the country, including field offices and organizers on the ground in crucial states like Michigan and Pennsylvania.
But positive spin may not be enough to temper the impact of a poor showing. Fundraising often drops off for candidates who don't finish strong. Warren's campaign, however, insists she has the infrastructure and organization to go into the summer.
In an email to supporters last week, Warren set an aggressive financial goal of raising $3.5 million in 5 days, which would average out to $700,000 per day, her biggest fund-raising goal to date. Sanders, Biden and Buttigieg all raised more money than Warren in the final quarter of 2019.
Democrats in Iowa say Warren has built one of the strongest ground games in the state. Despite a lag in the polls, her organizers could make all the difference on caucus night, they say.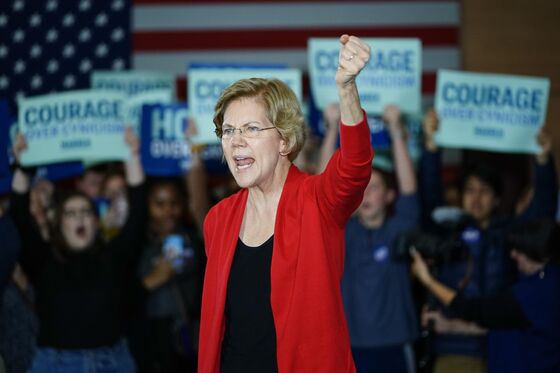 The Massachusetts senator leaned into her wonky persona and spent hours trying to make personal connections with voters through her "selfie" lines.
Warren needs to gain enough support to go into New Hampshire in a strong position for its primary next week. An online poll released Monday by the University of Massachusetts Lowell Center for Public Opinion put Warren in third place in the state, though only a few percentage points behind Sanders and Biden.
"She has done the work herself," said Patty Judge, former lieutenant governor and agriculture secretary in Iowa. "She did the standing in the line, the shaking of hands, and having the private personal conversations with thousands of people. If it doesn't work, maybe it just isn't her time or maybe it's in part because Bernie was given a free pass and got away from folks."
With Warren's peak came increased scrutiny from other candidates and the media. One line of attack was a delay in providing key financial details for her most expensive proposal: Medicare For All. Warren promised that her plan would not include middle-class tax increases but otherwise provided few specifics.
Ultimately, Warren released a detailed $20.5 trillion health care plan, funded mostly by taxing the rich and large corporations. A few weeks later, she backed off full immediate implementation of Medicare for All, instead suggesting that it would be available for families who make under $50,000 and children, until her third year in office. She also began tempering her rhetoric on the trail, increasingly stressing the word "choice" for voters.
That change may have cost her.
"The ground game is still there, but the national trajectory is different," Sean Bagniewski, chairman of the Polk County Democrats, said of Warren's standing in Iowa. "For a while, Warren was far ahead on both, but her lead on the national profile has lagged a bit because some moderate folks that were looking at her this summer questioned the health care stuff."
Meanwhile, her progressive rival Sanders who "wrote the damn bill" for Medicare for All, avoided similar scrutiny by starting with an acknowledgment that the middle class would pay more in taxes, but promising that costs would drop by eliminating deductibles and premiums.
"It's not that he has not been asked the question of how it can be paid for," Briahna Joy Gray, Sanders's national press secretary said in an interview with Bloomberg TV. "He has been asked and he gave an answer that was clear enough and direct enough. He has been more persuasive about getting that message across."
In October, when Sanders suffered a heart attack that halted his momentum, his rivals took a hands-off stance, including Warren, who maintained her non-aggression pact with Sanders. When asked to contrast her positions from her fellow progressive, she would respond, "Bernie is my friend."
That collegial spirit ended last month when a private conversation between the two in 2018 became the subject of a very public spat. Warren said Sanders told her that a woman could not beat President Donald Trump. In a debate, he denied saying that and when the show was over, a live mic recorded her accusing him of calling her a liar.
Warren also missed a full two weeks of crucial campaign time while she served as a juror in Trump's impeachment trial. Sanders and Amy Klobuchar had the same challenge, but Biden and Buttigieg were able to dash around the state, rallying voters.
Warren's campaign deployed surrogates -- including her golden retriever, Bailey -- and made her available to Iowans on the telephone. Her closing argument has focused on why she can unite the Democratic Party and beat Trump.
Warren has also leaned into her gender.
"Can we just address it right here? Women win," she said during a town hall in Davenport, Iowa. "We all know that women candidates have been outperforming men candidates since Donald Trump was elected in competitive elections."
In the days leading up to the caucus, Warren scheduled a road trip that would take her across the state, from the Missouri River to the Mississippi River. Her volunteers launched a door-knocking army and called voters around the state.
Now Warren waits for Iowans to deliver their verdict.
"Elizabeth Warren is heading into the caucuses with support from across the state and across the spectrum of Iowa politics," Jason Noble, Warren's Iowa communications director said. "We're excited to see the results of what we've built on caucus night."
(Disclaimer: Michael Bloomberg is seeking the Democratic presidential nomination. He is the founder and majority owner of Bloomberg LP, the parent company of Bloomberg News.)