Smartphone Slowdown Hits Profits at Samsung Electronics
(Bloomberg) -- The slowdown in the global smartphone market is starting to take a toll on Samsung Electronics Co.
The South Korean company's net income fell short of analysts' estimates as the sluggish market hit demand for its Galaxy devices, even as Chinese rivals step up their competition. Net income was 11 trillion won ($9.8 billion) in the three months ended June, compared with the 11.6 trillion won average of estimates compiled by Bloomberg.
The results reflect Samsung's troubles in shoring up its mobile business, despite resilient demand for its memory chips. Shipments in the smartphone market are declining after years of rapid growth, while China rivals such as Huawei Technologies Co. and Xiaomi Corp. are grabbing more market share. Chinese competitors are also threatening the South Korean company's display business with products ranging from cheaper televisions to state-of-the-art smartphone screens.
"Consumers are losing the belief that the next version of a smartphone is actually smarter," said Paul Swiercz, a management professor at George Washington University. "Even those wanting to own the latest and greatest are having difficulties paying high-margin prices for performance and features that have topped out."
Operating profit rose to 14.9 trillion won on sales of 58.5 trillion won, Suwon-based Samsung said, confirming preliminary numbers released earlier this month. The Korean won rose against the euro and several other key currencies, resulting in a negative impact of net 400 billion won on the quarterly operating profit compared with the previous quarter. The company's tax bill also rose to about 28 percent of pretax net income, five percentage points higher than a year earlier.
Huawei reported Tuesday that its revenue rose 15 percent for the first half of the year, without breaking out results for its smartphone or other divisions.
"They have a very aggressive Huawei to deal with," said Cliff Maldonado, an analyst at BayStreet Research in San Francisco.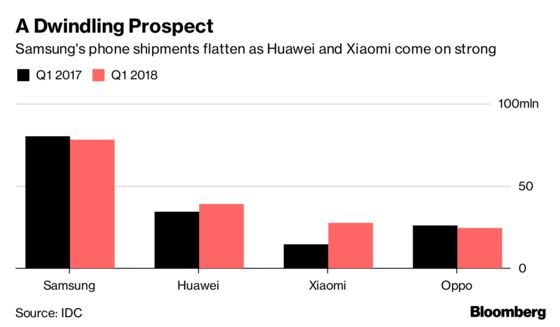 In China, the biggest market for semiconductors, Samsung faces an investigation over allegations of collusion in chip business along with SK Hynix Inc. and Micron Technology Inc. The three companies control more than 90 percent of the market for dynamic random access memory, or DRAM, chips.
Operating income from the chip unit amounted to 11.6 trillion won, accounting for the lion's share of profit.
Contract prices for 32-gigabyte DRAM server modules climbed 2.8 percent in the June quarter from the March period, which saw them rise 5.6 percent. Prices for 128 gigabit MLC NAND flash memory chips fell about 9 percent, according to inSpectrum Tech Inc.
Samsung shares fell less than 1 percent after the results. The stock has declined about 9 percent this year after trading near record highs in 2017 when the world's biggest chipmaker posted record profit on demand for semiconductors used in everything from data servers to smartphones.
Display panels make up another part of revenue for Samsung, which supplies OLED screens to Apple Inc. for its iPhone X even as the two sides compete in the premium phone market. Samsung's operating profit from its display business was 140 billion won, down from 1.7 trillion won a year earlier.
With growing competition from China, Samsung's smartphone division posted 2.7 trillion won in operating profit, down from 4.1 trillion won a year earlier. After a decade of growth, the global phone market is slowing as consumers wait for the next level of innovation such as bendable-screen phones and devices for fifth-generation wireless networks.
"Chips remain the goose that lays golden eggs for Samsung, but golden days may be over for its smartphones," said Claire Kim, an analyst at Seoul's Daishin Securities.
Samsung's consumer electronics unit, which includes TVs and appliances, had profit of 510 billion won.
Samsung said earlier this year that one of its biggest obstacles for business would be global protectionism, warning its employees to brace for potential implications.
The company at the same time is expanding its ability to produce memory chips and smartphones. Samsung last year announced 20 trillion won of new investments to increase chip output in South Korea and this year completed building the world's largest smartphone factory in India.
Vice chairman Jay Y. Lee, who has led the company since his father Lee Kun-hee fell ill in 2014, oversaw the opening of the factory, which South Korean President Moon Jae-in and Indian Prime Minister Narendra Modi also attended. Lee was released from prison in February on a suspended sentence for a bribery conviction in connection with a national influence-peddling scandal that led to the ouster of Moon's predecessor Park Geun-hye.
Under Moon, who has pledged to get tough on chaebol, Lee faces a set of regulatory issues, including dissolving a complex web of cross-holdings that has helped his family stay in control of Samsung Electronics and its array of affiliates.