Samarco Unveils Restructuring Talks as Vale Spill Hits Bonds
(Bloomberg) -- Samarco Mineracao SA, the Brazilian mining venture that caused an environmental catastrophe in 2015, disclosed that it has been is in advanced debt restructuring talks just days after it's co-owner Vale SA suffered a similar dam rupture that has killed at least 65 people.
The distressed joint venture owned by Vale and BHP Group Ltd. had reached a preliminary deal with creditors to restructure its debt by issuing new notes, according to documents Samarco disclosed on Monday night. Samarco bonds have tanked since Jan. 25 on concerns that Brazil's latest mining disaster will delay or even derail Samarco's own restart.
"Negotiations may or may not continue," the company said in statement on its website that details the back and forth between the parties involved.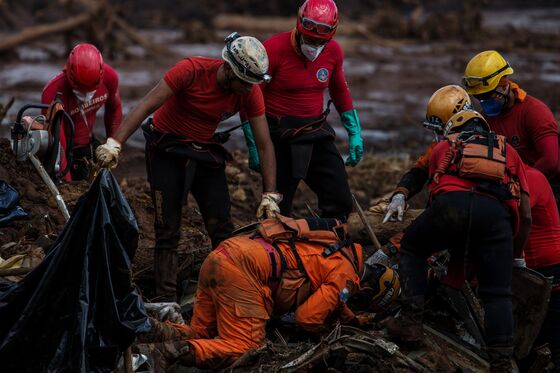 Samarco entered into confidentiality agreements on Nov. 27 with some creditors of export prepayment agreements and holders of its 4.125% bonds due 2022, 5.75% bonds due 2023 and 5.375% bonds due 2024, according to the documents. The price of Samarco's 2022 notes plunged to 53 cents on the dollar on Monday, from 75 cents before Vale's second accident on Friday.
The company's debt including capital and interest totaled $6 billion as of October, the documents show. Apart from bondholders, banks including Bank of America Corp., Mizuho Financial Group Inc. and HSBC Holdings Plc hold loans for almost $1 billion. JPMorgan Chase & Co. and Clifford Chance LLP appear as giving financial and legal advise to the company, while Houlihan Lokey, FTI Consulting Inc, Dechert LLP and Sidley Austin LLP advise the creditors.
The parties, which exchanged written proposals and counter proposals, have not reached a final agreement and no further talks are currently scheduled, Samarco said. In the talks, creditors demanded that they receive any cash in excess of $150 million at the end of each quarter.
According to the most recent documents dated Jan. 9, creditors would agree to swap their loans and bonds for new securities due in 2024, 2025 and 2033. Samarco's mine has been shuttered since late 2015 when one of its tailings dams ruptured, killing 19 people and polluting waterways in the country's worst environmental catastrophe. Cleanup costs paid by co-owners Vale SA and BHP Group Ltd. ran into the billions of dollars.