Samarco Said to Reboot Creditor Talks After Vale Dam Disaster
(Bloomberg) -- Samarco Mineracao SA, the Brazilian mining venture that hasn't operated since a deadly dam collapse in 2015, will seek to reboot talks with creditors after one of its parent companies suffered an even worse disaster at its own site, according to people involved in the discussions.
Last month's deadly accident at a Vale SA tailings dam in Minas Gerais state has upended the outlook for Samarco, which is jointly owned by Vale and BHP Group Ltd. While Samarco and debtholders had been in discussions since late November, those talks were scrapped and negotiations will restart from scratch, according to the people, who asked not to be identified because they aren't authorized to discuss the matter publicly.
With Vale's financial outlook imperiled by the latest catastrophe, creditors can expect Samarco to drive a harder bargain over the company's $2.2 billion in defaulted bonds and $3.8 billion in loans and other obligations. The joint venture and entities it owed money had reached a preliminary understanding that a debt swap was the best way to get the company back on its feet, but a final deal hadn't been reached, the people said.
A representative for BHP Group declined to comment, as did an official at Samarco. A Vale representative didn't immediately respond to a request for comment.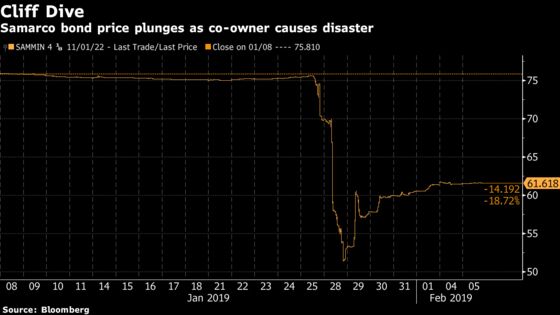 After negotiations formally started Nov. 27, the parties, which exchanged written offers and counter proposals, were still far from reaching a deal as an end-of-January deadline loomed, the people said.
The biggest sticking point was how to treat the funds that Vale and BHP had injected into Samarco in the wake of the November 2015 dam spill that killed 19 people and polluted waterways, which was considered Brazil's worst environmental disaster. The dispute involves about $908 million in shareholder debentures and $892 million of cash that shareholders provided to pay for disaster cleanup and remediation, the people said.
Creditors rejected Samarco's offer to treat the injections as senior or pari-passu debt.
On Jan. 24, the parties verbally agreed to a 15-day extension in order to allow for time to conclude the complicated talks, the people said. Everything changed, however, when the next day the second dam belonging to Vale gave way. The company, advised by JPMorgan Chase & Co., called off the negotiations. JPMorgan declined to comment.
The price of Samarco's $1 billion of notes due in 2022 plunged more than 30 percent after the accident to about 52 cents on the dollar. They rallied on Jan. 29 after the company disclosed that it had been holding talks with creditors, and now trade at 61 cents on optimism that successful negotiations will allow the company to resume operations.
The bond's current price is roughly equivalent to the net present value that creditors will be looking to obtain when the talks resume, one person close to the creditors said. That group includes distressed-debt hedge funds including Solus Recovery Fund LP, York Total Return LP and Silver Point Capital Fund LP, who bought claims held by Japanese banks, according to the people familiar with the talks. Representatives of the funds didn't immediately reply to calls and emails seeking comment.