Salvini: In Sync With Five Star's Di Maio on Budget, Banks
(Bloomberg) -- League party leader Matteo Salvini met with his counterpart from the Five Star Movement, Luigi Di Maio, on Sunday to discuss the Italian economy, budget and the country's banks, a spokesman for Salvini said.
"No banks will be in difficulty," Salvini said. The two parties, which run the country in a coalition government, are working in sync, he said.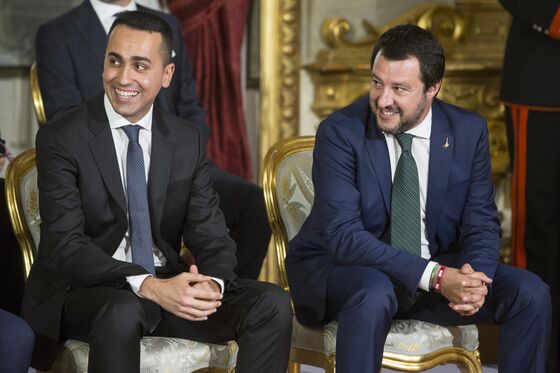 Salvini and Finance Minister Giovanni Tria have signaled in recent days that the government would come to the aid of troubled banks in the event of a crisis in the sector brought on by high bond yield spreads. Di Maio's Five Star campaigned for national elections in March on a platform that included criticism of the previous government's decisions to aid ailing lenders.
Di Maio said late Sunday that the two sides were "united" in discussions on issues including banks, though without involving citizens' contributions.