Salvini's Choice: Push to Be Prime Minister Depends on EU Vote
(Bloomberg) -- From trying to force an early general election to setting a new course for the populist coalition, Matteo Salvini's long quest for the premiership depends on how Italians vote in this month's European ballot.
Nearly a year after the deputy premier and chief of the rightist League first tied the knot with the insurgent Five Star Movement, the May 26 contest for the European Parliament marks a watershed for an administration marred by infighting which reached new heights in the last weeks of the campaign -- and saw Salvini unnerve markets with a challenge against Brussels.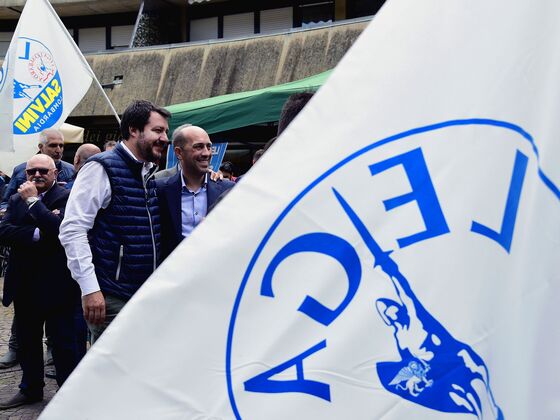 Here's a list of the options ahead for Salvini, whose declared ambition is to make the League -- which scored only 6% in the last European vote in 2014 -- Europe's biggest political force.
Go Nuclear: Bring the Government Down
Salvini could be tempted to pull the plug on Five Star if the League scores upwards of 35% in the European vote. If he wants to seal a new pact with old allies, he'd need the Forza Italia party of ex-premier Silvio Berlusconi to score about 10% and the far-right Brothers of Italy to get around 5%, to be able to have a credible alternative majority. If Salvini's score is lower, triggering a government crisis could prove too risky.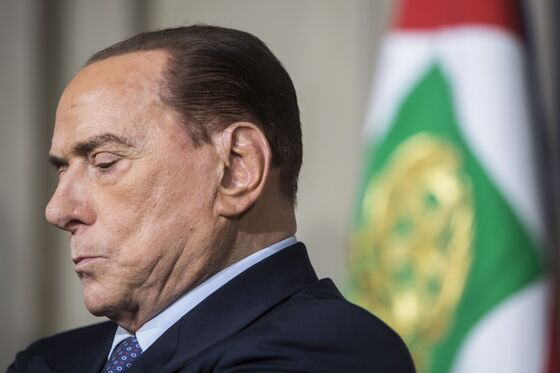 Salvini is cautious. The League leader is "very wary of Berlusconi, whom he sees as cumbersome and unmanageable," said Sofia Ventura, a professor of political science at the University of Bologna. "Part of Salvini's electorate doesn't want a tie-up with Berlusconi, so Salvini might be better off waiting for Berlusconi to take a back seat." Besides, Salvini has no assurances that President Sergio Mattarella would call new elections.
What It Means: Uncertainty over the short term, but investors might be encouraged by the prospect of a more coherent government in the end.
Keep Promises: Rewrite the Government Contract
A score of 30% would provide enough ammunition for Salvini to pressure fellow Deputy Premier Luigi Di Maio of Five Star to overhaul their so-called contract, the program the two parties drew up before the government was sworn in on June 1. Salvini could insist on cast-iron pledges to meet several of the promises he made before the March 2018 general election.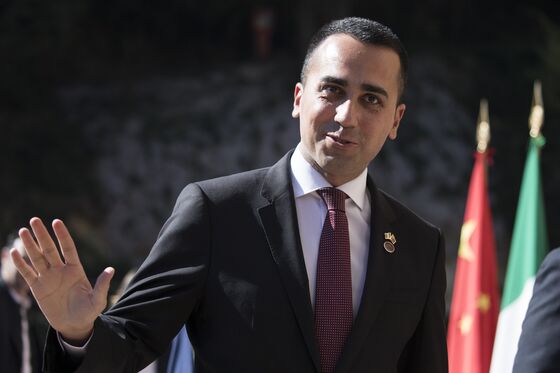 Expect Salvini to give priority to curbs on immigration, lower taxes, more powers for northern regions where his party is based, and a high-speed rail link with France -- all of which have been blocked by Di Maio. Salvini could also seek a reshuffle to obtain more ministerial posts for the League.
What It Means: Investors might welcome this outcome, as the pro-business League asserts itself over the anti-establishment Five Star.
Business as Usual: Keep Quarreling
If the League disappoints in the European vote, Salvini is likely to emerge more tied to the coalition. "It's a paradox, but expectations for the League have gone so high that a result under 30% would be seen as a setback," said Fabio Bordignon, a politics professor at the University of Urbino.
The next test for the coalition's future would likely be a tussle in the fall over the 2020 budget, mirroring last year's clash with the European Commission. "The government has already promised more spending, lower taxes and says it won't raise VAT," said Carlo Cottarelli, a former International Monetary Fund executive who nearly became premier himself. "I don't think the future Commission will take a different stand toward Italy; nationalist parties in other countries want state budgets to be rigorous."
What It Means: Here we go again. Investors are heading for a replay of last year's budget battle with the European Union.
First Aid: Healing New Wounds
It's not just about numbers. The coalition's future will also depend on how skilled -- or flexible -- Salvini and Di Maio prove to be as they play nice again after their cat-and-dog fight during the election campaign. Relations got so bad that the two reportedly stopped talking or texting each other.
"Salvini and Di Maio have to compete against each other, so of course their relationship deteriorates over time," said Ventura of the University of Bologna. "But I expect the marriage of convenience to continue. Couples can separate and still live under the same roof, but this pair may not last another four years."
What It Means: Even if the League and Five Star make up, investors should expect more turbulence from the fractious coalition.