Salvini Rallies Base at Rail Site as Di Maio Slips Into Denial
(Bloomberg) -- Apparently, a hole in the ground can be different things to different people. As Matteo Salvini, one of Italy's two deputy prime ministers, prepared to put in an appearance at a building site for a tunnel between Italy and France, his coalition partner Luigi Di Maio denied that any actual works were taking place there.
Salvini is touring the construction site of the TAV high-speed rail link to lend his support to the hotly disputed project, ramping up pressure on Di Maio's Five Star Movement, the "frenemy" party Salvini's League governs with, which has long opposed the plan.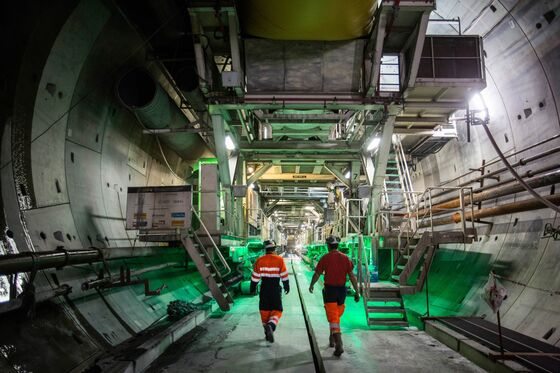 Speaking in Rome, Di Maio claimed that "not a single centimeter of the tunnel has been dug," adding in comments cited by Ansa news agency that it's erroneous to say the project hasn't been completed yet, it in fact hasn't even started.
Salvini begs to differ. Facing TV cameras as a snowstorm hammered the site on Friday, the deputy premier, who also serves as interior minister, said Italy "can't afford the uncertainty" of a prolonged dispute over the TAV, claiming that the works have proceeded too far to stop now. "According to the numbers, finishing the project would not cost more than going back on it," he said.
The $10 billion project, which would link Turin and Lyon through the Alps at speeds of up to 220 kilometers (137 miles) per hour, is just one of several sources of strain between Salvini's business-friendly League and Di Maio's anti-establishment Five Star. The parties have also clashed on a gas pipeline across the Adriatic and the shutdown of a steel plant in the southern region of Puglia -- just to name disputes over environmental issues.
The rail plan is seen as a red line for some Five Star supporters as the party traces its heritage as an insurgent movement back to the early days of anti-TAV protests. Ansa reported tension between police and anti-project demonstrators on Friday before Salvini's arrival.
The government is reviewing the project, currently co-financed by Italy, France and the European Union. A cost-benefit analysis has not been made public yet, but it is expected to show the project isn't economically viable, Bloomberg News reported in December.