Salesforce Jumps Most in Two Years After Optimistic Results
(Bloomberg) -- Salesforce.com Inc. shares jumped the most in more than two years after the maker of cloud-based applications software reported billings and sales that topped analysts' estimates, signaling the company's products for the financial services and health industries will help maintain its rapid growth.
Billings, a metric of sales productivity, grew 27 percent in the fiscal third quarter to $2.89 billion, according to data from JMP Securities. Analysts had expected $2.68 billion. The shares rose as much as 9.5 percent to $139.60, the most intraday since February 2016.
Sales may reach as much as $3.56 billion in the fiscal fourth quarter, the San Francisco-based company said Tuesday in a statement. Analysts on average estimated $3.53 billion, according to data compiled by Bloomberg.
Revenue for fiscal 2020 may crest at $16 billion, putting the company on a path to reach its $23 billion annual sales target by fiscal 2022, set by co-Chief Executive Officers Marc Benioff and Keith Block.
Salesforce has been spending rapidly to keep the good times rolling, resulting in a 32 percent increase in total operating expenses in the third quarter. International expansion and acquisitions remain at the top of the agenda.
"When you're growing a business doing more than $3 billion a quarter at a 27 percent rate, you do get something of a pass on profitability improvements," Pat Walravens, an analyst at JMP Securities, said in an interview.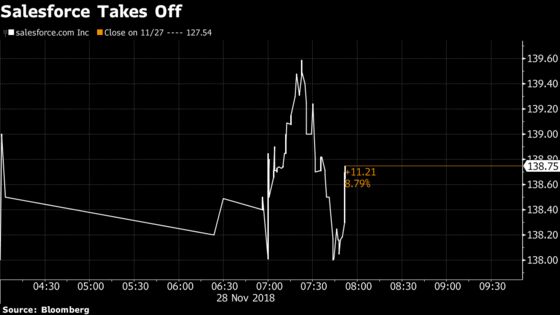 While the stock has lost about 14 percent of its value in the tech industry rout that began in October, Salesforce still has gained 33 percent this year.
This "is exactly the type of underpriced earnings and FCF story that we want to own in today's volatile environment, where we see strong future growth potential and improving profitability combined with large cap stock liquidity," analysts led by Keith Weiss at Morgan Stanley wrote to clients.
For more details on the results, click here.
Read the statement here.