Saks Parent to Go Private After Shareholders Accept New Bid
(Bloomberg) -- Hudson's Bay Co. shareholders agreed to take the owner of Saks Fifth Avenue private, concluding an eight-month fight that pushed the company's chairman to sweeten his offer twice.
The Toronto-based company said 98.3% of shareholders voted in favor the C$11-a-share offer by Chairman Richard Baker and a group of allies, which values Hudson's Bay at about C$2 billion ($1.5 billion). The deal was approved by 94.5% of minority shareholders; the bid required a majority of them to accept.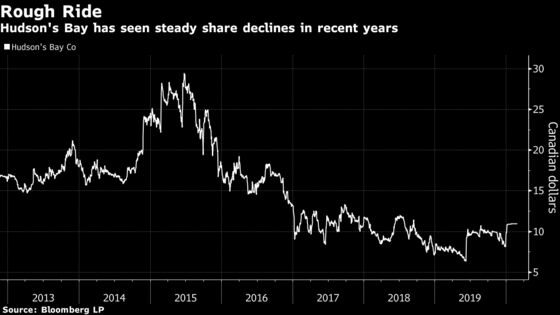 The oldest company in North America now gets a chance to work out a plan to lure shoppers back at a time of intense online competition, without the expectation of quick results from public markets.
"As a public company we're constantly striving to deliver results on a quarterly basis," Baker said in an interview. "As a private company we can now focus on the long term," with a new business plan coming soon, he said.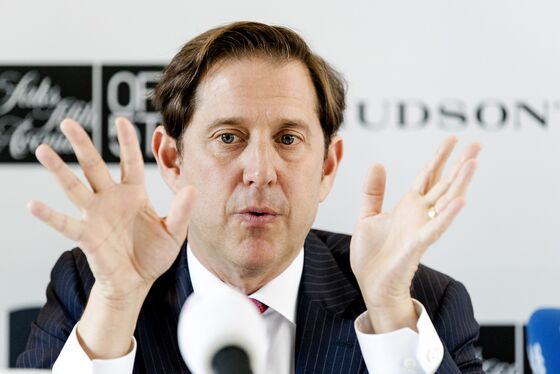 Despite efforts to improve their inventories and build up e-commerce, department stores have been hit particularly hard by what's been dubbed the "retail apocalypse." Macy's Inc., for example, has lost more than 20% of its stock value this year, and its credit rating was cut to junk by S&P Global Ratings after disappointing 2019 results. The U.S. retailer said Feb. 4 that it will close 125 stores over the next three years. Competitors such as J.C. Penney Co. and Kohl's Corp. have also reported weak sales in recent quarters.
Hudson's Bay, which sold a string of assets to reduce debt, has been no exception, struggling to boost revenue at its eponymous chain in Canada. The Saks chain has also recently showed signs of weakening.
What Bloomberg Intelligence says:
"Sustained sales weakness at department stores, with a double-digit decline from Feb. 1-17, requires retailers such as Macy's and Kohl's to take bolder steps to reinvent themselves, including closing more locations."
--Poonam Goyal, BI senior retail analyst, and Abigail Gilmartin, BI associate retail analyst
It won't be the first time Hudson's Bay has disappeared from the glare of public markets. Late U.S. investor Jerry Zucker took the chain private in 2006 for C$860 million. In 2008, Baker-led NRDC Equity Partners LLC agreed to acquire the retailer, and an initial public offering followed in 2012. The company bought Saks the next year.
Baker's bid, which was first announced in June, marked the start of a battle that pitted him against Catalyst Capital Group Inc., a Toronto-based private equity firm run by Newton Glassman. Catalyst built up a 17.5% stake and campaigned against the offer -- including after it was increased the first time and approved by the Hudson's Bay's board. It also convinced regulators to delay a shareholder vote.
In January, the parties announced they'd reached an agreement at C$11 a share, 16% higher than the original bid. It's still 35% lower than the IPO price of C$17 a share.
Baker predicted that the company will become more valuable once private, with the move allowing it to reinvest income into the business. While shareholders celebrated that approach at Amazon.com Inc., they were unforgiving of Hudson's Bay, Baker said.
"A company like Amazon doesn't worry about what its profits and its results are on a month-to-month basis, and the public markets allow them to plough all their money back into making a better company," Baker said. "A company like HBC got punished for reinvesting into the business, and the shareholders demanded greater cash flow and greater dividends."