Sainsbury Shows Need for Asda Deal as Grocery Growth Slows
(Bloomberg) -- J Sainsbury Plc showed why it's so eager to lead a consolidation push among the U.K.'s grocers.
Excluding fuel, Sainsbury's comparable retail sales rose 0.2 percent in the 16 weeks through June 30, the London-based company said Wednesday. That met the average analyst estimate but marked the slowest growth since the company acquired catalog retailer Argos in 2016.
"The slowdown is a concern," Shore Capital analyst Darren Shirley said by email. "We suspect the core supermarkets have failed to capture any recent upside from the combination of the hot weather and World Cup."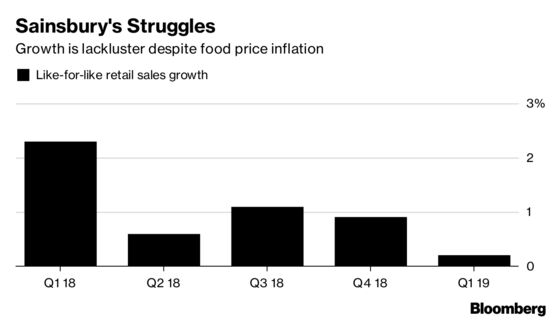 U.K. supermarkets are struggling to grow amid competition from the discounters and expanding online sales, pushing chains to consolidate. Sainsbury said it expects U.K. regulators to rule on its proposed $10 billion acquisition of Walmart Inc.'s Asda in the second half of next year. Tesco Plc this week announced plans for a buying agreement with Carrefour SA of France to drive down costs.
"The retail market is changing rapidly and everybody is working on strategies that enable them to adapt," Coupe said on a call with reporters.
To narrow its price gap to rivals, Sainsbury plowed 150 million pounds ($198 million) into cuts on key lines such as chicken fillets and rump steaks. The cuts lowered the company's rate of overall inflation by 1.5 percentage points and were the key contributor to the slowdown in sales, according to Coupe.
Chief Financial Officer Kevin O'Byrne said Sainsbury has secured 3.5 billion pounds of financing for the Asda deal from existing lenders and new institutions on "attractive terms." The package is split into 3.5-year and 5-year tranches, and the total commitments Sainsbury received were double its requirements, the CFO added.
Sainsbury said its revolving credit facility will increase by 550 million pounds to 2 billion pounds once the deal closes.
The shares were up 1.3 percent at 8:55 a.m. in London.