Sainsbury-Asda Deal May Be Doomed by Antitrust Report
J Sainsbury Plc's attempt to create the biggest U.K. supermarket chain with the 7.3 billion-pound ($9.5 billion) purchase of Wal-Mart Inc.'s Asda looks close to collapse after antitrust authorities attached harsher-than-expected conditions for approval. Sainsbury shares plunged the most in a decade.
The deal would catapult the merged company past Tesco Plc and give it greater purchasing power to compete with the German discounters Aldi and Lidl, as well as online upstarts. In a provisional report, the Competition and Markets Authority said the merger, even with substantial store sales, would likely mean higher prices and worse choice for shoppers.
Neither Sainsbury nor Asda are willing to cede one of their brands, a step the regulator suggested might be required, people familiar with their plans said, asking not to be identified because the information isn't public. For U.S. giant Wal-Mart, the collapse would complicate its strategy of focusing on faster-growing markets and could force it to seek other suitors for its U.K. chain.
The CMA report was "close to the worst possible outcome," Sanford C. Bernstein Ltd. analyst Bruno Monteyne said in a note to clients.
The report drove Sainsbury down as much as 17 percent, the most since 2008, and weighed on shares throughout the industry. Wm Morrison Supermarkets Plc, seen as a likely buyer for stores divested in the potential deal, fell as much as 5.3 percent.
Sainsbury Chief Executive Officer Mike Coupe pledged to "fight right the way through the process," which runs until the end of April. If that fails, options include a court battle.
"These findings fundamentally misunderstand how people shop in the U.K. today and the intensity of competition in the grocery market," Sainsbury said in an emailed statement. "The CMA has moved the goalposts and its analysis is inconsistent with comparable cases."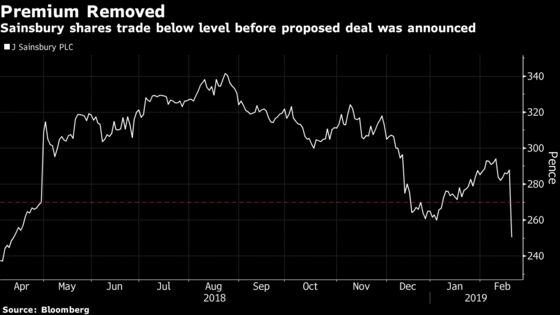 The regulator said in its provisional finding that the merger would hurt competition for grocery supplies nationally, specifically in 629 local areas where both Sainsbury and Asda operate supermarkets. That covers 45 percent of Sainsbury's stores and 57 percent of Asda's. Convenience store competition would also be affected in 65 areas, the CMA said.
"We have provisionally found that, should the two merge, shoppers could face higher prices, reduced quality and choice, and a poorer overall shopping experience across the U.K.," Stuart McIntosh, who's overseeing the CMA probe, said in a statement.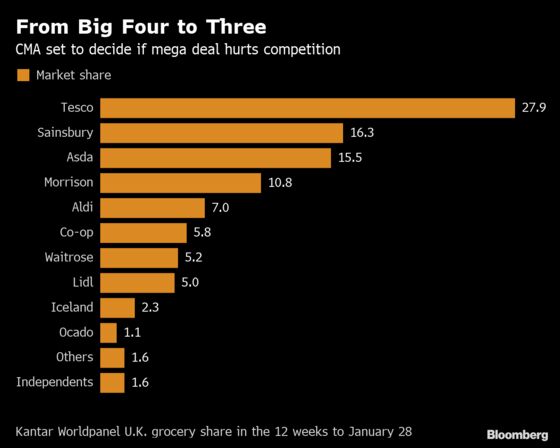 The regulator last week formally extended its deadline to investigate the deal, its biggest merger review in years, and now has until April 30 to make a final decision. The probe has taken in a rare court clash in December, where a judge ruled that the regulator had imposed excessively burdensome demands on the supermarket chains.