Saab Slumps Most in Almost 10 Years on Rights Offer, Earnings
(Bloomberg) -- Saab AB fell the most in almost 10 years in Stockholm trading after the Swedish defense company announced plans to raise 6 billion kronor ($665 million) through a rights offer and reported weaker-than-expected third-quarter results.
The rights sale will give Saab funds to invest in production and working capital, and spend on the research and development that's needed to keep up with rapid changes in technology, it said in a statement on Tuesday. The company needs the money to compete for additional large orders after its backlog jumped to a record level, it said.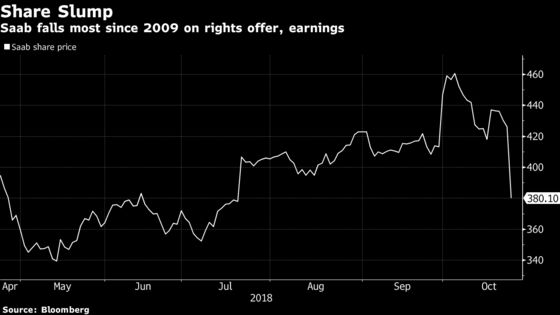 "We have had very strong growth in the last 3-4 years, almost growing by 50 percent, and we see that we will grow at about the same rate in the future," Saab Chief Executive Officer Hakan Buskhe said in a telephone interview. "In order to be able to exercise freedom of action and to be active, the board has assessed that it is the right way to raise some capital."
Saab has in the last few years won a raft of big projects, including Sweden and Brazil's orders for the Gripen E fighter jet, a Swedish contract for its A26 submarine and an order from the United Arab Emirates for airborne warning and control system GlobalEye. The U.S. Air Force recently chose to buy the T-X trainer, an advanced pilot training aircraft developed by Saab and Boeing Co.
Saab anticipates "a continued strong demand" for its products and systems as well as increasing defense budgets in most markets, it said.
Still, the stock plummeted as much as 17 percent, the steepest intraday decline since February 2009, and was down 12 percent at 9:30 a.m. Swedish time. Before Tuesday, Saab shares had returned 8.4 percent including dividends this year, giving the company a market value of 46.5 billion kronor.
Timing differences for payments related to large projects weighed on Saab's cash flow in the third quarter, the company said. "We have seen this sort of pattern before and we think investors could look through this," analysts at Citigroup wrote, citing Saab's traditionally strong fourth quarter and its "strong positioning and order backlog."
Saab also will cut 300 jobs as well as 550 consultant positions to raise productivity, it said. The company also will seek to lower operating and marketing expenses, increase the digitization of internal processes and adapt its product portfolio. Saab took non-recurring costs of 298 million kronor in the third quarter for the expense reduction plan.
Owners of about 52 percent of Saab's share capital, including Investor AB and the Knut and Alice Wallenberg Foundation, support the planned rights offer. It will be made to eligible holders during the fourth quarter and needs shareholder approval at a Nov. 16 meeting.