S&P 500's Top Gainer Dethroned After Trial Data, FANG Weakness
(Bloomberg) -- A technology stock-led selloff may be contributing to weakness in Abiomed Inc. shares after its study of its Impella heart pump in patients who suffer a dangerous form of heart attack left investors wanting more. The medical device maker was the S&P 500's best performer this year as of Friday's close, notching gains in excess of 115 percent.
While the results met the company's primary target to advance the study into a pivotal trial, a broader drop in technology names, and what Goldman Sachs calls health-care's "FAANG-Y" cohort, may be adding pressure to the stock after the less-than-stellar results. Jefferies analyst Raj Denhoy wrote that the highly-anticipated study delivered what was needed to advance trials in the patient group, but was "likely not enough to move the stock."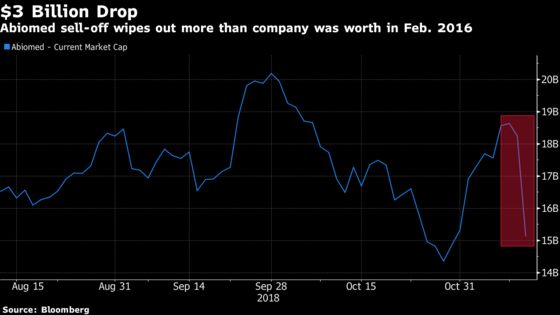 Shares of the medical device maker fell as much as 19 percent, the most intraday in more than three years while the S&P 500 Health Care Equipment Index was on track for its worst day since April. Abiomed shed more than $3.2 billion from its market value in today's trading alone -- more than the company's entire market value in February 2016.
The closely-watched NYSE FANG+ Index also exhibited weakness, extending a three-day slide to the lowest level in about two weeks. High-momentum MedTech stocks that were among the S&P 500's top performers this year were under notable pressure in the day's trading, including Illumina Inc., Boston Scientific Corp., and Intuitive Surgical Inc.
For Abiomed, the expanded use of Impella may alter the paradigm of heart treatment and add $5 billion a year in market potential, according to some analysts. However, the chance to help these patients remains at least a few years away, ahead of a larger, pivotal trial expected to begin next year.