S&P 500 Dividend Payouts Increased 6.9% in Third Quarter
(Bloomberg) -- Dividend payments from S&P 500 companies continued to climb in the third quarter on the back of consecutive quarters of double-digit earnings growth and changes to tax laws championed by the Trump administration.
Among index members, 383 companies declared $117.2 billion in combined cash dividends, a 6.9 percent increase from a year ago. Seventy-five companies boosted dividends, down from 84 in the third quarter of 2017, while 17 companies accelerated the payments.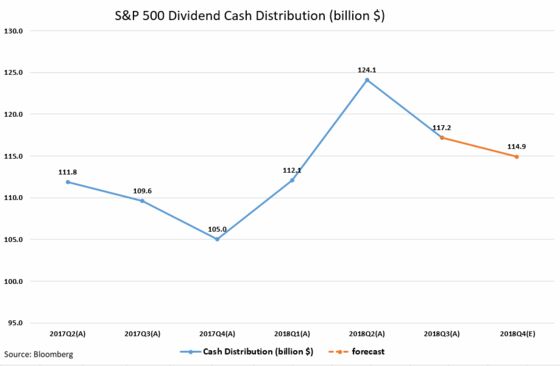 Union Pacific accelerated its dividend payment for the third time in one year to 80 cents per share, more than 30% higher from the same quarter last year
Altria Group increased dividend by 14% which is the highest increase in its history
BlackRock, Charles Schwab and Zions Bancorp are among the 9 financial companies to increase dividends, a slower pace from 19 companies in second quarter after the stress test for financials
Kraft Heinz and Tyson Foods halted yearly dividend increases for the first time since 2015 and 2013, respectively.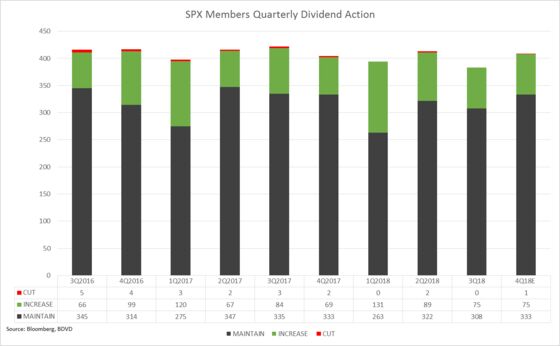 In the fourth quarter, there are 10 REITs and 8 healthcare companies expected to increase dividends. Real estate investment trusts have the highest dividend yield among the 11 sectors in the S&P 500 Index. The timing of increases is expected, "as the REITs companies tend to increase dividend once a year, many of them do it in the fourth quarter based on their expectation of where earnings will be in the coming 12 months." said Jeffrey Langbaum, a Bloomberg REIT analyst.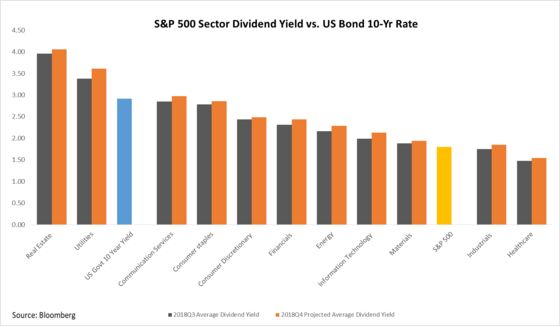 To access the dividend report, BPS, click on "Derivatives", then "Dividend Forecasting", then S&P 500 Index BDVD Quarterly report or click, HERE.