Kganyago Confident on South Africa Economic Growth After Rebound
A surprise rebound in economic growth in the second quarter means Africa's most-industrialized economy is on track to expand this year, central bank Governor Lesetja Kganyago said.
The central bank is "comfortable" with its forecast that the economy will grow 0.6% this year, Kganyago said Wednesday in an interview at the World Economic Forum on Africa in Cape Town. If realized, that would be the slowest full-year rate of expansion since 2016.
South Africa averted a second recession in as many years after growth recovered to 3.1% in the second quarter, data published on Tuesday showed. That beat the median estimate of 2.5% by 17 economists in a Bloomberg survey.
"Even if we get zero growth for the next two quarters, the South African economy will still grow by 0.3% this year," Kganyago said. "To get growth of say 1%, the remaining two quarters of the year would have to grow by between 3.6% and 4.5% -- that's not quite a scenario that we are looking at at the moment and we are still quite comfortable with 0.6%."
The return to growth reduces pressure on the central bank to lower interest rates when its Monetary Policy Committee meets in two weeks. The MPC loosened policy at its July meeting after the economy contracted a revised 3.1% in the first quarter.
Kganyago said inflation is currently "well contained" within the central bank's 3% to 6% target range. Risks to the outlook have abated somewhat, he said.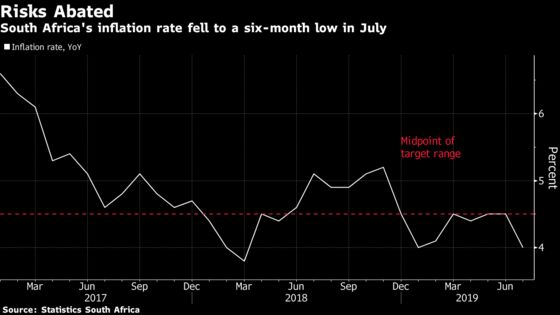 "At the time of our previous MPC meeting, we identified the risks as being the exchange rate, being oil prices and so forth," Kganyago said. "Both variables seem to have behaved and had actually provided the space for the risks to be mitigated somewhat. But in 14 days' time we'll be making a reassessment."
South Africa's annual inflation rate dropped to 4% in July, the lowest in six months, from 4.5% a month earlier. It's been at or below the preferred 4.5% midpoint of the central bank's target band every month since December, the longest such streak in more than eight years.
Read More
Inflation Expectations Are Key to South Africa's Policy Path
South Africa Inflation Rate Falls to Six-Month Low in July