S. Africa Retail-Sales Growth Slows to 18-Month Low in September
(Bloomberg) -- South African retail sales expanded at the slowest pace in 18 months in September, signalling a slow rebound for the economy from a recession it plunged into in the second quarter.
Retail sales rose 0.7 percent from a year earlier compared with growth of 2.5 percent in August, the Pretoria-based statistics agency said Wednesday. The median in a Bloomberg survey was 1.9 percent. Sales fell 0.6 percent in the month.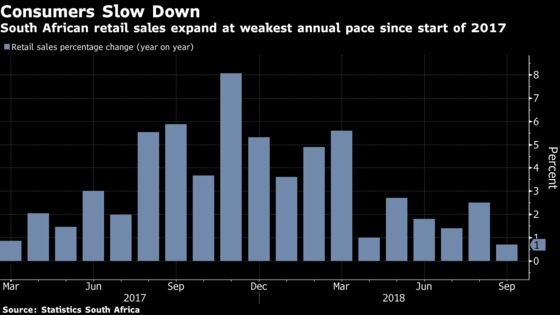 Sales increased 1.5 percent in the three months through September from the same period last year.
The retail-sales figures are the last of the high-frequency economic data published for the third quarter. While manufacturing output increased year on year in every month of the quarter, mining production dropped every month.
The economy slipped into a recession in the second quarter. Data for gross domestic product in the third quarter is due on Dec. 4.