South Africa PMI Sees Factory Activity at 14-Month Low in September
(Bloomberg) -- An index tracking South African manufacturing activity fell to a 14-month low in September.
The purchasing managers' index compiled by the Stellenbosch-based Bureau for Economic Research for Absa Group Ltd. declined to 43.2 in September from 43.4 in August, the Johannesburg-based lender said in emailed statement. A reading below 50 indicates contraction in the factory sector.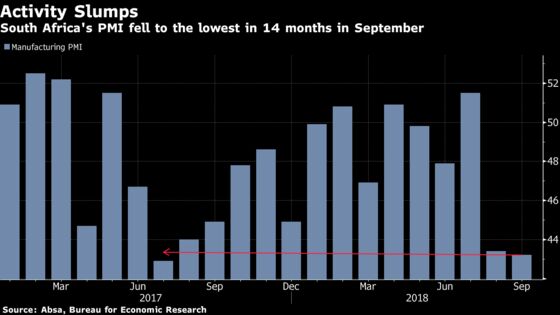 Business sentiment and the rand have wiped out all the gains that came on the back of President Cyril Ramaphosa's ascent to the power since December. The business cycle in South Africa, where the economy entered its first recession in almost a decade in the second quarter, is in its longest downward phase since records started in 1945, central bank data show.
While manufacturing expanded the most in 25 months year on year in July, mining output shrank the most since October 2012 on a monthly basis, data released by Statistics South Africa in September showed. Retail sales climbed less than estimated on an annual basis.
"While high-frequency activity data from Statistics South Africa suggests that the economy will exit the technical recession in the third quarter, the PMI survey inspires little hope that the economy staged a strong recovery," Absa and the BER said.
The new-orders gauge declined to 39.6 from 39.9 in August, while the business-activity index rose to 38.7 from 37.2.