South Africa Expropriation Bill Withdrawn Amid Constitution Review
(Bloomberg) -- If you wanted proof of how jittery investors are about South African ruling party plans to change the constitution to permit expropriation of land, look no further than Tuesday's brief surge in the rand after a parliamentary committee announced it was withdrawing a bill on the issue.
The currency, which strengthened as much as 1.5 percent against the dollar, pared the gains after it became clear that the withdrawal of the bill was a procedural move while lawmakers continue studying whether to let the government seize land without paying for it.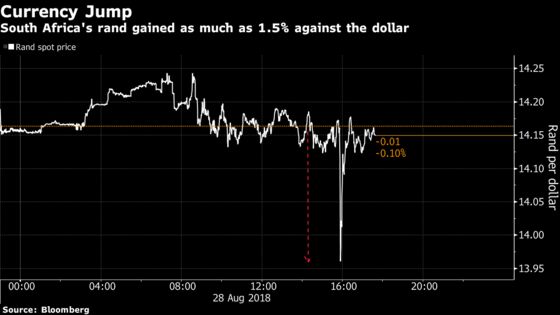 "It looks like this was always going to happen and it's purely procedural," said Brad Preston, chief investment officer at Mergence Investment Managers Ltd. in Cape Town. "It doesn't seem to indicate any change in ANC policy directions."
The African National Congress decided at a conference in December that the constitution should be changed to allow for the expropriation of land without compensation, but the changes shouldn't undermine the economy, agricultural production and food security. A parliamentary panel is currently investigating what amendments will be necessary.
Lawmakers were separately processing the Expropriation Bill, which former President Jacob Zuma had returned to parliament in 2017 because there hadn't been adequate public participation.
President Cyril Ramaphosa's party has embraced land expropriation without compensation as a means to achieve equality and racial justice. The ANC says the constitutional change should make it clear under what conditions farms can be taken.
International scrutiny of South Africa's land reform plans intensified last week after U.S. President Donald Trump tweeted that he'd asked Secretary of State Mike Pompeo to closely study land and farm seizures and the "large scale killing" of white farmers. The government hasn't sanctioned any land seizures thus far.