Ryanair Posts Profit, Says Lower Prices to Hold Back Results
(Bloomberg) -- Ryanair Holdings Plc posted its first quarterly profit since the start of the Covid-19 pandemic, while warning it will need to cut fares over the winter in order to sustain the recovery.
Ryanair declined in Dublin trading after it reported net income of 225 million euros ($260 million) for the three months through Sept. 30 -- a figure that missed analysts' estimates nonetheless. 
The Dublin-based group is also considering delisting from the London Stock Exchange, in a development tied to Brexit that will disappoint some investors.
Europe's biggest discount carrier has used its lower cost base and financial clout to expand across the region during the pandemic. While capacity will exceed 2019 levels next spring, it'll come at the expense of profitability, as Ryanair pressures weaker competitors with lower ticket prices.
"I think break-even is unlikely this year," Chief Executive Officer Michael O'Leary told Bloomberg Television. "I'm really focused on next year."
In July, while reporting earnings for the first quarter, the carrier said it expected to post "somewhere between a small loss and break-even" in the financial year ending March.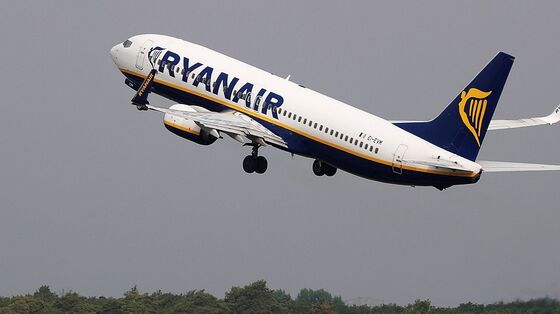 Ryanair said it's considering exiting the LSE amid a material decline in share volumes in the wake of Britain's split from the European Union.
O'Leary said the step is an "inevitable consequence of Brexit" and the regulatory requirements the split presented. Chief Financial Officer Neil Sorahan said separately that less than 10% of shares are now traded through London.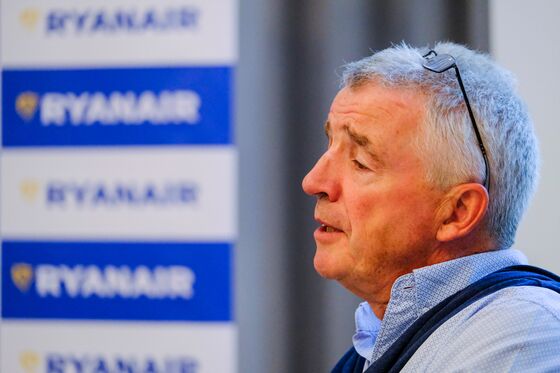 Ryanair in December banned non-EU citizens including Britons from buying its ordinary shares and eliminated the voting rights of holders. In September, it forced the sale of 1 million shares purchased since the breakup out of compliance with its ownership rules.
Ryanair declined 0.3% as of 9:15 a.m. in Dublin. The shares are up about 4% this year.
Recent bookings have been spurred by the further easing of travel restrictions in Britain, Ryanair's biggest market, unleashing a jump in business for the October half-term holidays and lifting second-quarter occupancy above 80%.
The Christmas season should see a major recovery in bookings for visiting friends and family, whether between the U.K. and Ireland, Spain and Canaries, or within countries such as Italy, O'Leary said.
The carrier now expects to carry up to 103 million passengers this year, after previously forecasting no more than 100 million, Sorahan said. 
Still, the second-quarter profit was shy of the 255 million-euro average estimate of analysts tracked by Bloomberg, and Ryanair expects to report a full-year loss of between 100 million euros and 200 million euros.
"We will continue to stimulate fares as necessary," Sorahan said in an interview. "The booking curve continues to be relatively close in and so visibility is limited and that's why it was difficult to craft guidance this time around."
What Bloomberg Intelligence says:

"Ryanair's use of low yields to build traffic looks like the right strategy to us, despite the setback of an earnings miss in fiscal 2Q and the full-year (ending March) guidance cut to a 100-200 million-euro loss. More than 4 billion euros of cash and 1.5 billion of net debt in September makes it one of the strongest European airlines financially, so rising costs and subdued demand suggest the budget carrier may accelerate market-share gains in an uncertain winter."

-- Conroy Gaynor, BI consumer and aviation analyst

Ryanair's Strategy Sound Despite Slower Earnings Rebound: React
Cash burn and losses for European carriers could surge through winter on fears of a new virus wave, Bloomberg Intelligence said in a report Thursday.
Ryanair's deals with airports, the arrival of more-efficient Boeing Co. 737 Max jets and fuel hedges that stand at 80% going into next summer will help insulate it from costs pressures, Sorahan said.
The carrier expects to have 65 Max aircraft by summer 2022, the CFO said, funded through a combination of cash and "opportunistic" fundraising that could include bonds, bank loans or sale-and-leaseback deals on planes, he said.