Ryanair Plans 5,000 New European Jobs as Pandemic Eases
(Bloomberg) -- Ryanair Holdings Plc plans to create 5,000 European jobs over the next five years as the airline returns to growth following the coronavirus slump.
The Dublin-based carrier will need to add aviation crew to meet demand from an expanded Boeing Co. 737 fleet, unit Chief Executive Officer Eddie Wilson said in an emailed statement Tuesday. The airline expects passenger numbers to more than double to 200 million a year by 2025, after the addition of 210 Boeing 737 Max narrow-bodies, he said.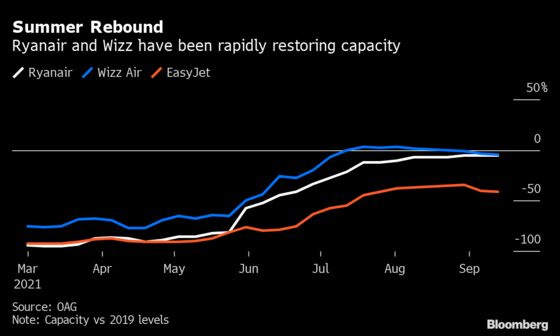 The expansion comes as the airline industry starts to recover from the Covid-19 pandemic, with the global rollout of vaccinations easing government concerns about border controls. Ireland restarted widescale international travel in July after more than a year of advising against non-essential trips.
The U.K. plans to revamp its so-called traffic-light border rules this month and may ease test requirements for arrivals to make it easier to visit.
Ryanair is opening new training center in Dublin as part of the expansion plan. That is a "real vote of confidence in the airline industry as it rebuilds after the pandemic," Irish Deputy Prime Minister Leo Varadkar said.
Ryanair said on Sept. 6 that it had ended talks with Boeing Co. about a possible follow-on order for 737 Max 10 aircraft. While the new training center has simulators for both Boeing and Airbus aircraft, Wilson made clear the Airbus simulators are to service the group's Lauda Air unit.
"We are a Boeing customer," Wilson said at a briefing Dublin. "I think we will be still around for when the cycle changes on that in terms of new aircraft orders."
Business is "recovering strongly in a lot of countries," Wilson said. At some airports in Europe, Ryanair could reach 135% of pre-coronavirus capacity for this coming winter, he added.