Ryanair Lowers Profit Outlook on Labor Strife, Fuel Costs
(Bloomberg) -- Ryanair Holdings Plc caught investors off guard by saying labor strife and higher fuel prices are taking a heavier toll on earnings, sending the stock down the most since 2016.
The shares plunged Monday after Europe's biggest discount carrier said profit for the year through next March will be about 12 percent lower than it had forecast less than three weeks ago.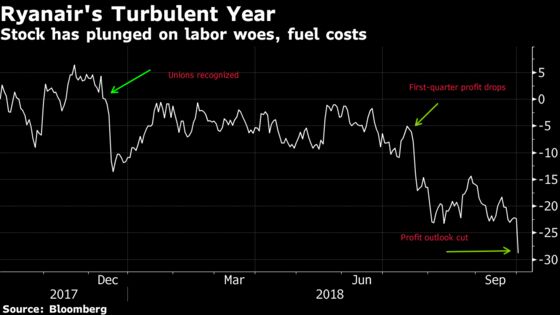 Two days of strikes in September translated into lower traffic and fares, as well as fewer bookings in October and over Christmas as customers balked at the possibility of more walkouts, the Dublin-based company said in a statement. Higher fuel prices will also add to costs.
While EasyJet last week also signaled that oil prices would lift expenses, its revised forecast for the 12 months ended yesterday was still in the upper half of the previous range. Ryanair warned that the bad news may not be over, saying it can't rule out more disruption this quarter, which "may require full-year guidance to be lowered further."
Chief Executive Officer Michael O'Leary, who has previously presided over years of rising profits and passenger numbers, has been grappling with a turbulent year and was already forecasting Ryanair's first annual profit drop since 2014. The company reversed its long-held policy of not recognizing unions in late 2017, unleashing a campaign of strikes as workers push to extract the best deals on new contracts.
Though O'Leary notched an accord with Irish pilots in August and has sealed agreements with some other groups, many unions are holding out.
"While we successfully managed five strikes by 25 percent of our Irish pilots this summer, two recent coordinated strikes by cabin crew and pilots across five European Union countries has affected passenger numbers," the CEO said in the statement. "Customer confidence, forward bookings and third-quarter fares have been affected."
Ryanair is now forecasting full-year profit after tax of between 1.1 billion euros and 1.2 billion euros, having previously suggested a range of 1.25 billion euros to 1.35 billion euros. The warning was unexpected following O'Leary's message on Sept. 12 that there would be no change to the outlook even after the latest walkouts. Goodbody analysts including Mark Simpson labelled the move a "surprise cut in guidance."
The company said it would trim its winter schedule by 1 percent, pulling four aircraft from a base at the Dutch city of Eindhoven, and two from Bremen, Germany. It will also cut back flights out of the German base of Niederrhein, the statement said, adding that further cuts could come.
Strikes resulted in 261 million euros in extra costs
Second-, third-quarter traffic, fares will be 'somewhat' lower than expected
Second-quarter fares down about 3 percent
Fuel bill will be 460 million higher than last year
Guidance excludes exceptional losses at Laudamotion
The shares dropped the most since June 27, 2016, and were trading down 8.8 percent to 11.97 euros at 10:10 a.m. in Dublin. EasyJet fell as much as 6.3 percent.